Five planes were damaged at IGI airport, and 24 flights were diverted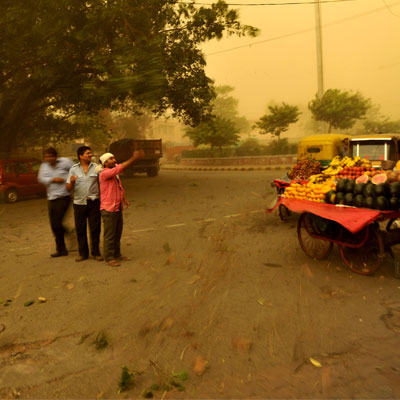 At least nine people were killed in the NCR region, including six in Delhi, as a massive thunder storm lashed the region on Friday crippling road traffic, metro services and flight operations and hitting power supply. The sudden strong winds hit the operations at the IGI airport here as flying debris damaged five aircraft and forced the diversion of 24 planes to other nearby destinations
Delhi Police said six people died and 13 were injured in various areas of the city in accidents like felling of trees, collapse of walls and electrocution following the storm which was accompanied by winds at a speed of over 90kmph.
The storm struck Delhi at 4:58pm immediately throwing normal life out of gear.
Thousands of people were stranded outside Metro stations and on roads as traffic almost came to a halt due the storm which darkened the sky.
Most areas in city plunged into darkness immediately after the storm as uprooted trees snapped power lines. Metro train services were disrupted on almost all lines for about an hour due to power failure during the evening rush time.
Met department termed the storm as "cumulonimbus" and attributed it to western disturbance over Pakistan. NCR areas of east Delhi, Noida and Ghaziabad were most affected by the storm.
Met office said similar weather conditions are likely to persist for over the next two days.
Areas in South, East and North Delhi faced long power cuts ranging from one to four hours. Supply of power could not be restored till late in the evening in several areas in North and North West Delhi.
The city saw massive traffic jams as the storm uprooted trees snapping power lines in many areas and affecting traffic lights leading to chaos on the streets.
"The cumulonimbus brings tall thunderstorms and dusty winds with a speed of over 92kmph and are caused because of western disturbance, which is currently over Pakistan.
"The meeting of cold air and hot air on the Indo-Gangetic plains causes low pressure area and also lot of instability. This results in severe thunderstorm," IMD director general L S Rathore said.
The storm affected northeast Haryana and the NCR. But parts of east Delhi, Noida and Ghaziabad were affected the most, he said.
Police in Ghaziabad said the storm claimed three lives and injured more than a 12 people besides causing heavy loss to property in different parts of the city.
Five aircraft -- two of SpiceJet, one each of Air India, GoAir and BlueDart -- suffered damaged after they were hit by some flying objects, airport sources said, adding a portion of the roof of Terminal 1D was also blown away.
They said there was no report of any injury to any passenger or airline staff.
As the gale hit the airport around 5.30 PM, some flying objects hit an Air India plane, a Boeing 777, parked at the remote bay, they said.
The wing tip of the aircraft suffered damage after it was hit by some flying objects that was carried by the winds.
However, airline officials said the damage was minor and the plane would be ready for operations after small repair work.
Two SpiceJet planes - Boeing 737s - parked at the airport's parking bay suffered damage.
One of the planes was hit by a step ladder, kept near the aircraft, while another by some flying debris, airport sources said, adding a freight plane of a private courier company BlueDart and a GoAir aircraft were also damaged.
The airline operators were assessing the extent of damage, they said.