---
---
---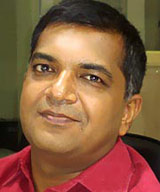 Shyam Parekh
"That is why I took up the gun (read pen) — not to shoot, not to kill, not to destroy, but to stop those who would do evil, to protect the vulnerable, to defend democratic values, to stand up for the freedom we have to talk … about how we can make the world a better place."
Gujarat polls 2012
Gujarat Polls 2012: Have they turned into a referendum for Modi as the next PM? Terrorism, corruption, development are all relegated to the back seat this time...
No piece of cake for Modi on his 63rd birthday,but a cakewalk over primetime!
As we refuse to curb population growth claiming population is India's strengths, we are inviting a catastrophe. Earth cant support infinite population except by usurping the land reserved for the flora and the fauna. Will some politician, NGO, economist or a Baba Ramdev or Anna Hazare will show the courage to stand up and tell people to stop multiplying?
More than any IPL, we need a revolution of ideas - original ones generated in India, for that we need an innovation friendly attitude of the society.
Let there be no confusion, the debate is not just about Modi
We may hate or love Modi, but we can judge him on our own
Wanted: Some outrageous ideas to save the earth!
---