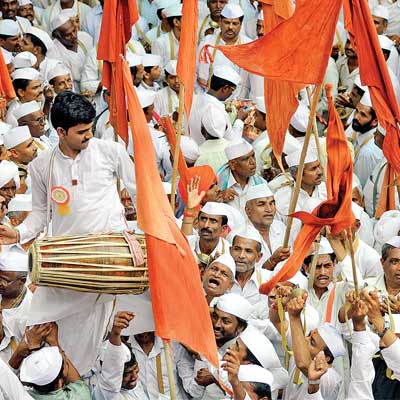 Big droplets of water hit the windscreen as I started my journey from Koregoan Park. Everyone had left office early, it was one of those rare days that was declared a half day. It was the day when the 'Palkhi' proceeded to its holy destination through Pune.
I had planned out the route to my home in Shivajinagar in my head; the diversions I would take and how I would bypass the blocked roads, but little did I know that eventually I'd travel a path I had avoided for more than two decades. As the rain grew heavier, so did the traffic until at a point it came to a complete standstill; long queues of red tail lights lined up in front of me. No right, No left. I saw people getting out and that's when I decided to pull over and park. I was going to walk my way home even if it took two hours to do so.
The rain had gentled down a little as I, in my corporate navy trousers and pin striped shirt complete with a poster blue tie, reached closer to the Fergusson College Road. I could hear the clanking of the Manjeera a few meters away, several of them chiming out their rhythmic collisions. I thought of ways to avoid the rural lot; perhaps I could wait for a lull in the procession and cross the road? Or perhaps I could run through it? I cringed at the very thought of it. For one, I hated crowds and for two, I really thought processions of the religious kinds were a waste of time.
Drenched, I watched from the Pavement; men and women swirling and swaying to the rhythm of several hundreds of manjeeras, dhols and tutaaris all tuned to a different beat, families handing out packed parcels of food to those who wanted a bite, a few others clad in saffron turbans passing bottles of water to the thirsty and several others who occasionally jumped in and out to catch a glimpse of the Palkhi. As I searched for the right moment to run across to the other side of the road, I wondered what was it that all these people see that I couldn't. Why would someone walk for miles in this rain? That's when something soft touched my forehead.
A man had appeared out of thin air. He spoke to me in Marathi. I did not hear him well over the music but could make out the rural accent. When I touched my forehead I realised he had smeared a tikaa onto it; a faint sandalwood one. The man flashed a wide white smile and disappeared into the perennial river of people. I wanted to wipe it off. I didn't. I simply followed him into the crowds.
The rain had almost stopped now but I was surrounded by a different kind of rain; that of colour, chanting and the cacophony of several instruments playing at once. I wasn't sure how I could push my way through to the other side. I had to get out of this madness. Just as I saw a little sliver of road clearing up, a woman stopped me and applied something black onto my forehead.
The little clearing I had seen had been swallowed by a group of men carrying what looked like a chariot. I could hear their song. 'We walk this distance for you, oh lord' it rang. I stared at the overly decorated chariot. The silver 'padukas'inside were not unfamiliar to me and yet it looked alien. The reverence in the atmosphere made it new to me. I still could not fathom the zest with which people carried it but I could feel the energy that had kept them going. They made no difference between me and them. It was I who made that difference. It was I who viewed them as another people. At least till this moment.
My eyes closed for a while, I took in what I had thought was noise earlier and let it transform into music within me. I loosened my tie and decided to walk with the Palkhi for a while.
A short distance later, with my hands full of tiny white sugar balls I exited the procession and turned into the lane that wound to my house. I was drenched to my core, not with rain but with awe and respect for those who travel several hundred kilometers; For those who are more in touch with themselves and any urban bred slicker would ever be; with their spirit to never give up and unquestionable trust in their faith and with the regret that I had shied away from such revelry for so many years of being a Punekar.