Not so long back I heard that Pune will not make it to the 50 best walking cities in the world. The revelation was a survey by the International Podiatric Medical Association. It came as no surprise to me as it might not for many Punekars. Now, why would anyone list Pune as one of the best cities to walk in?
For one, we don't have pavements to walk on and if we do, they are often no good to serve the purpose. For where the footpaths don't exist, we must raise a point and hope and pray that one day, we do get them, but even the ones we have are not the shiniest of the lot.
Let's take the example of our dear Fergusson College Road. A few years ago, the pavements were dug up and there was hope of perhaps some walkable ones. Viola, in a few weeks, we had new ones but then they were laid with glossy, slippery ceramic tiles. So there we go, we have pavements but dare to walk on them only if you want to break a bone or too.
Not all footpaths are as useless but the ones that are actually useful have become second homes for street vendors and hawkers. The Mahatma Gandhi Road or Main Street as someone of us like to call it, is probably the toughest to drive or walk along. Each block is a new obstacle course, and what is even more intriguing is how we as a people encourage hawkers and street vendors
by buying and incentivising their activity.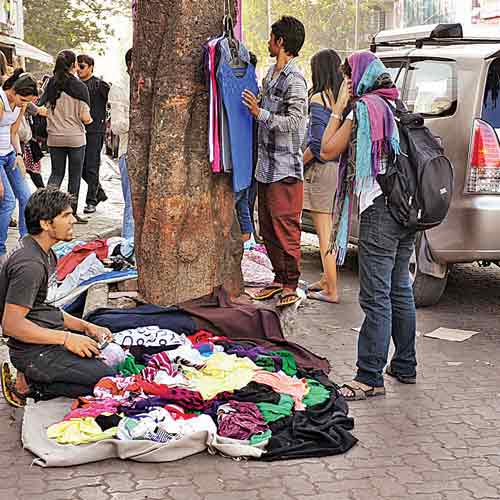 Encroachment onto footpaths in Pune is not always because of unregulated hawkers who are trying to earn a buck or two; our dear two-wheelers are equally to blame for non-walkable pavements. It is not a rare sight these days that you see a speeding motorcycle cut through traffic by using the footpath. And should they not be racing past pedestrians honking to make their presence felt, they often use the pavement to park vehicles.
While some might argue that the encroachment of footpaths is due to the lack of parking space, in most cases, it just boils down to laziness. Talk a walk in the old city area of Shaniwar Peth for that matter, vehicles parked cleverly on pavements, where our faithful traffic police trucks cannot reach to tow them.
This lack of basic sense stems from the seamless disregard for civics rules observed in an average Punekar. While this is an inconvenience to everyone, the irony is that our laid back and casual approach is the cause of this problem, to us.
I urge my fellow Punekars to respect the areas demarcated for parking and footpaths. If there is an area which demands a parking spot, we can leverage social media to raise a voice, and the same for footpaths. If your voice needs to be heard, tweet or share your concern with a well-connected figure on social media (influencer) to gain leverage and viewership for quick response to the issue.
Today, if we are educated, let us behave educated in all aspects- especially with our civic responsibility as citizens.
Manish is a neo-Punekar and is amused by the unique traffic etiquette of the city. He tweets at @join2manish