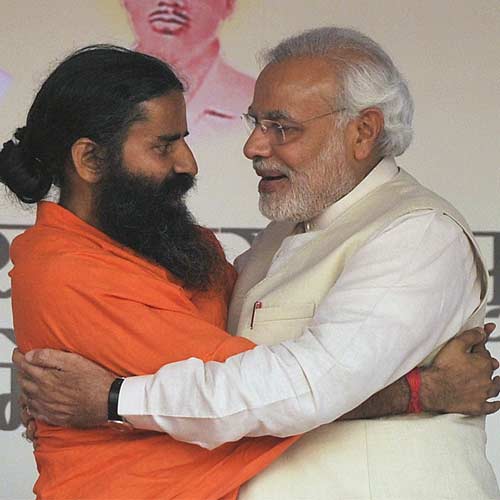 The Bharatiya Janata Party's prime ministerial nominee Narendra Modi has almost perfected the art of staying silent on various contentious issues, where the possibility of him coming out weak is rather strong. When it seems discussing an issue may not benefit the party or his campaign, he chooses to stay silent and hope the media lets the issue die down. But some issues refuse to go away and Modi has to relent.
Through out his election campaign, Modi has chosen to maintain a conspicuous silent on the issue of crony capitalism, choosing instead to continue on his catchphrase, 'Sabka saath, sabka vikas'. He has never taken on the continued taunts of AAP, which claim he is working on behalf of the Ambani's and Adani's. Modi has yet to combat these statements.
Last week, the yoga guru Baba Ramdev had stated that the Congress vice-president Rahul Gandhi "goes to Dalit' house for honeymoon and picnic. Had he married a Dalit girl, then his luck could have clicked and he would have become the Prime Minister." Later, Ramdev apologised for his comments stating that they were taken in the wrong context, adding, "I express regret if the use of that term has hurt the feelings of any community, especially Dalit community."
The comments received widespread criticism from across the spectrum of political parties save for the Bharatiya Janata Party (BJP) which came out in support of Ramdev. The Congress party vociferously came out against the comments calling them, "shameful and despicable" adding that it was "ashamed" by them. Mayawati, the Dalit political leader who heads the Bahujan Samaj Party came out the strongest against Ramdev, calling for his arrest. She threatened to go on a nationwide protest post the elections against him. Days after the comments were made, Modi continued to stay quiet and chose to avoid the topic when brought up.
But the BJP has chosen to play a different tune, saying "Ramdev is a saint. When he selects words like honeymoon, which is an English word, the context should be understood and its usage seen and not be misconstrued ... It did not have the kind of meaning as Congress leaders were viewing it as per their own perception." This from a party that is strongly hoping to gain from the caste calculations its made in Uttar Pradesh.
To be sure, Ramdev is not a member of the upper echelons of the Party or even the party per se. But he is considered as someone close to the party leadership. Often senior leaders of the party are seen at his 'yoga camps' which tend to be less about yoga and more about politics.
More recently, Narendra Modi has chosen to avoided taking on Priyanka Gandhi-Vadra who has been rather aggressively taking on the BJP leader. While she targetted him on various issues including the snooping scandal that erupted in Gujarat, Modi has chosen to completely avoid hitting out at her. The most he chose to say, was during an interview with the national broadcaster, when he stated that as a daughter, she would obviously do whatever is required to help her mother and brother. This is very unchareteristic of him, as he has been targetting the family rather brazenly as his campaign gathered steam.
When it suits his image, the Gujarat chief minister is known to pick up topics of the day to attack his opponents. For instance, just last week, Modi was seen attacking the Gandhi family using quotes from a new book by Sanjaya Baru the former media advisor to Manmohan Singh.
That Modi says little and, worryingly, not much is asked about these these topics in various media interviews isn't a very comforting notion. But the question is how long will Narendra Modi choose to stay quiet on these sticky issues? Beyond a point, the public will ask and want to know, why Modi chooses to stay quiet and the politics of silence will surely backfire.