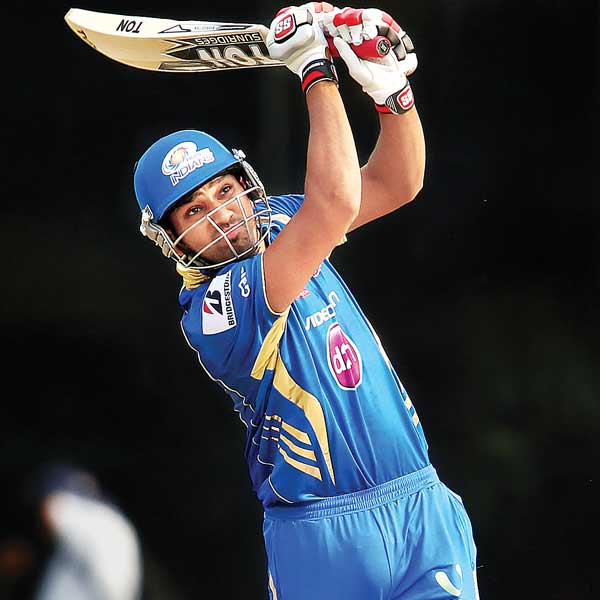 Mumbai vs Chennai Saturday, 10th May, 2014
20:00 hours, Mumbai
Mumbai Indians is languishing at the bottom half of the table while Chennai Super Kings is going really well, but still when these oppositions face Mumbai clearly have an edge over Chennai, especially in Mumbai where Chennai is trailing by 5-0 against Mumbai.
Current Table Standings- Mumbai 7th- Chennai 2nd
Mumbai is coming into this game with a victory and for Chennai coming to this game, they carry a defeat in their previous game.
Chennai Super Kings lost their first game and then went on to build a 6-match winning streak which was again halted by Punjab.
The Mumbai Indians are back to their fortress at Wankhade forgetting all the bad memories happened to them earlier, with two back to back wins, the Men in Blue is oozing with confidence, with some good display from Rohit Sharma with the bat and led by a good bowling attack from Malinga and Harbhajan.
Now the Men in Yellow face Mumbai Indians whom they defeated with ease in the first leg played in UAE, where McCullum's unbeaten 71 set up an easy chase for them, but at the fortress Wankhade its not going to be a walk in the park for them. Dwayne Smith will be familiar with the conditions having played for Mumbai Indians for a while. Ravindra Jadeja will again look to come in between and trouble the opposition with his spin bowling.
Head to Head- Mumbai 9-7 Chennai
Last 5 games
MI- WWLLL
CSK- LWWWW
Hello and welcome to our live covergae of the match between Mumbai Indians and Chennai Super Kings. The toss has taken place, MS Dhoni has won the toss and will field first
Delhi is witnessing rains as the match between Sunrisers Hyderbad and Delhi Daredevils has been interrupted many times, but its dry and humid in Mumbai.
Chennai make one change, Samuel Badree comes in place of Ben Hilfenhaus,Mumbai, meanwhile have made two changes, Lendl Simmons is in for Ben Dunk, and Praveen Kumar comes in for Pawan Suyal
Teams:
MI : L. Simmons, C. Gautam (wk), A. Rayudu, R. Sharma (c), C. Anderson, K. Pollard, A. Tare, Harbhajan Singh, L. Malinga, J. Bumrah, P. Kumar
CSK: D. Smith, B. McCullum, S. Raina, F. Du Plesis, MS Dhoni (c/wk), R. Jadeja, M. Manhas, R. Ashwin, I. Pandey, M. Sharma, S. Badree
Yes this is Clash of Titans.... don't close your eyes and ears.... :) #MIvsCSK

— Alappuzhakkaran®™ (@Vishnus88) May 10, 2014
Simmons and Gautam will open the batting for MI, while debutant Badree to open the bowling
PLAY !
Badree, lenght bowl, defended straight to the bowler
Its interesting to see Dhoni giving the new ball to Badree who is playing his first game, so ime for him to settle down the nerves
Ishwar Pandey will share the new ball
FOUR, short and Simmons pulls it towards the long leg boundary, that was a loosener
MI 8/0 (2) Simmons 6*- Gautam 1*
FOUR, outside edge, Gautam looking to cut gets a thick outside edge, ball runs away for four
FOUR, GOOD SHOT this time Gautam comes out of his crease and hammers the ball in the gap between covers and point
OUT, too ambitious, looks to sweep this time, gets a top edge and ball lands safely in the hands of McCullum at sqaure leg, he is gone for 9
Rayudu is the new batsman
Badree continues
SIX, tosseed up from the leggie, Simmons gets under it and swings it with the line over long-off boundary
SIX, MONSTER ! Simmons this time charges down the track and hits this time over long-on for a maximum, this was a big one
Pandey continues from the other end, into this third over
FOUR, Rayudu walks on the track and hits a wide ball beautifully over the covers boundary
SIX, DROPPED ! Rayudu looking to play the same shot again, walks down the track, and slices it hard, ball flies to Badree at third man, he let it bounce off hsi fingers and he parries it over the rope
MI 42/1 (6) Simmons- 20*- Rayudu 11* Run-rate: 7.00
Badree helps the bowl to reach for six.. catch dropped at boundary.. that would have been excellent catch if that was a catch #IPL #MIvsCSK

— Suresh K Bijarniya (@S_K_Bijarniya) May 10, 2014
On comes SIR JADEJA
FOUR, WELCOME SIR ! width offered outside off, Simmons cuts it hard to the point boundary
No run, defended watchfully by Simmons
Good come back from Jadeja after being hit for a boundary, giving no runs, just 4 runs coming from this over
Mohit Sharma into the attack now
Good over from Mohit Sharma just 3 runs off the over
Jadeja continues
1 run, Rayudu drives it towards long on
No run, skids on to the pads, Simmons can't connect it
Just 5 singles from the over, Chennai squeezing the runs now
Strategic Time Out
After an early strike from debutant Badree, Simmons and Rayudu looked in shape as they took on the bowlers, but after the powerplay Chennai have put on sort of breaks on these two batsmen
MI 54/1 (9) Simmons 28*- Rayudu 15* Run rate: 6:00
So, finally we see Ashwin coming on
MI fans getting frustrated now with this current scoring rate
#mivscsk runrate is not good its tym fo d big shots

— Ajith kp (@ajithwyd) May 10, 2014
Jadeja into his third over
DROPPED, Rayudu is getting all the lives here, he goes inside out over covers, Manhas at the fence drops a sitter
SIX, DROP ME AND I'LL HIT YOU ! Jadeja bowls full and Rayudu sits on one knee and dispatches it over the deep midwicket boundary for a six, Manhas must be really kicking himself for that dropped catch now
Ashwin bowls
FOUR, EDGED AND FOUR ! Short and spinning from Ashwin, Simmons looks to cut gets an outside edge as the ball races towards the fence
OUT, Simmons looking to clear the long-on fence, holes out to the fielder at the boundary, that shot lacked power and an innings of 38 from 38 balls comes to an end, Ashwin strikes one
In comes the skipper Rohit Sharma now for Mumbai
MI 78/2 (12) Rayudu 28*- Sharma 1*
Ashwin's bowling strike rate against Mumbai is 45, the worst in IPL (since 2011), never the less he got a wicket here tonight
Badree into his last over
FOUR, Rayudu drives it down the ground towards long on, good effort from Faf in the field, but fails to stop the ball
Time Out
Mumbai needs to increase the scoring rate from here onwards now
Some advice for Rohit Sharma
Come'on Rohit Sharma.. Hit the ball out of the park.. I love to see your sixes #MIvsCSK

— My Name is Nilay (@iam_Nilay) May 10, 2014
Mohit Sharma now
FOUR, Outside off and Rohit elegantly pushes it towards the point boundary, some poor effort from Ishar Pandey helps it to cross the rope
MI 99/2 (15) Rayudu 39*- Sharma 11* Run rate: 6.60
Mohit Sharma's strike rate in IPL is 13.60, the best among all (since 2011), though he is yet to take a wicket tonight
Ravindra Jadeja into his last over
SIX, BANG ! Rayudu uses his feet smartly and hits the ball over the long-on boundary, much needed boundary for Mumbai, they need more of those
Jadeja completes his spell, he's been expensive tonight and the good thing Mumbai did that they denied him a wicket
Mumbai 100 from 15 overs, with Pollard and Corey Anderson still to come, how much will they pile up?
Ashwin into his last over
OUT, HE STRIKES ! flatter on pads, Rohit strikes but doesn't really times it well, Raina takes a simple catch at deep midwikcet, he goes for 19
In comes Pollard
SIX, down the pitch and Rayudu sends it roaring towards the long on for a maximum, there's a half century for Rayudu
OUT, DANGERMAN POLLARD PERSIHES ON FIRST BALL ! Carrom ball from Ashwin, Pollard looks to strike this one into the orbit, Raina takes a good running catch at deep midwicket, gone for naught
That's such a waste of a Pollard #MIvsCSK #PepsiIPL

— Prasad Gangan (@prasadgangan) May 10, 2014
Mohit Sharma now
OUT, EVEN MOHIT STRIKES, MI are self-iimploding,slwoer one, Rayudu heaves it towards the deep midwicket fielder, he never looked in control of the shot, he is out for 59
Corey Anderson and Tare on the crease now
FOUR, wide and tare chops it towards the point for four
FOUR, wide outside off again, and Tare smashes this one to the deep point for four, sweeper cover was nowhere in picture
MI 139/5 (19)
Ishwar Pandey to bowl the last over
SIX, full in the slot for Anderson and he whips it over the covers for a flat six
SIX, full toss, Anderson slaps it over the midwicket fence, Jadeja has caught the ball but only after it went over the ropes, Umpire confirms and signals it a six
OUT, wicket off the last ball, Full toss, Tare tries to hit that over midwicket for six, but Faf near the ropes composes himself and takes a neat catch, Tare made 9
MI 157/6 in 20 overs - Anderson 18*
Late strike helps Mumbai post a score above 150, scoring 58 runs in last 5 overs.
Mumbai kept wickets intact but never push on the accelarators, and when they tried to do so they lost quick wickets in a flurry, Raydud anchored the innings with a good knock of 59 but MI needed him to stay till the end, Chennai bowlers barring the last 5 overs, were very economical espcially Ashwin 3/30 was the pick of the bowlers.
157 isn't a bad score considering Mumbai's bwoling attack but it isn't a good score either keeping in mind Chennai's batting line-up, so can Mumbai maintain their home-run against Chennai or will Chennai break the jinx tonight, cahse begins in couple of minutes
Some CSK fans are hopeful tonight
#CSK is the team with potential to break the winning streak of MI @ home! Hopefully they will do it tonight #CSKvsMI #MIvsCSK #PepsiIPL

— Kunal Shadija (@Skun4L) May 10, 2014
Welcome back for the chase, Dwayne Smith and McCullum come out to bat for CSK while Praveen Kumar has the new ball
FOUR, fuller outside off, Smith powers it over mid-off for four
Dwayne Smith's has the best batting average inside powerplay of 71.50 (sicne 2011)
FOUR, OFF THE OUTSIDE EDGE ! good length outside off, Smith looks todrive gets an edge, past slip for four
Lasith Malinga to bowl from the other end
@mipaltan Embrace urself..slinga Malinga on his way!! #Wankhede #MIvsCSK #PepsiIPL

— Mayank Raj (@i_raj_mayank) May 10, 2014
Good stuff just two runs from the over
Malinga has the best strike rate for all the bowlers playing at home, his strike rate at Wankhade is 13.85 (sicne 2011)
CSK 16/0 (3) McCullum 2*- Smith 14* Required rate: 8.35
Bumrah comes in
SIX, WELCOME YOUNG FELLOW ! Greetings from McCullum as he steps out of hsi crease and swings it towards long on boundary
FOUR, width offered, and McCullum carves it towards the backward point with full force
Bumrah's bowling average 1st innings- 19 2nd innings 37, so clearly he struggles bowling in 2nd innings (since 2011)
OUT, LBW Praveen Kumar strikes, bowls on leg stump, McCullum misses while heaving it towards leg side, it hits him on pads, replays show that it would have missed the leg stump, poor decision, but Mumbai get the breakthrough, dangerman gone for 13
Abhishek has something else to say on that decision
There r bad decisions, but that comes from the pressure of the appeals is the worst kind! #mivscsk

— AnalyseAbhishek (@abhishekthakur) May 10, 2014
Raina is the new batsman
FOUR, wrong channel to the new batsman, on pads, Raina clips towards the sqaure leg boundary
CSK 34/1 (5) Raina 5*- Smith 14* Required rate: 8.26
Bumrah to continue
Yorker, Raina defends it back to the bowler
good comback from him, just 4 runs from this over
End of Powerplay
Harbhajan Singh now
Mumbai slowly pushing the required rate up after the wicket of McCullum, though a long way to go in this game, but these dot balls mount pressure
OUT, Pollard removes Raina, down the leg side as Raina was out of his crease, smart stumping done by Gautam, Raina gone for 19
Sorry for the technical error, back live now
DuPlesis has joined Smith in the chase now, Smith has steadied himself and is looking dangerous now, he his into his groove now, hitting MI bowlers out of the park
SIX, Smith coonects this one and it sails over the midwicket boundary for a maximum
Harbhajan finishes his spell 4-0-22-0
CSK 92/2 (13) Smith 44*- DuPlesis 12*
CSK require 66 runs from 42 balls
PK bowling his last over
SIX, length ball Smith powers it for six towards midwicket
OUT, same ball, same shot but wrong outcome, he holes it this time to the fielder, gone for a well played 57, Smith has now scored 5 fifties in IPL
33 required from 24 balls
MI needs more wickets
Slinger Malinga now
OUT, BOWLED ! trademark Malinga, slower yorker into the block hole, Faf gets decieved , gone for 31
CSK 131/4 (17) Jadeja 0*- Dhoni 2*
27 runs required from 18 balls
Come on MI we need wicketss!!!! #MIvsCSK

— vaibhavi kalgutkar (@vaibhaviK18) May 10, 2014
Bumrah into his last over
FOUR, this eases the pressure, short and Jadeja pulls towards midwicket
17 runs required from 12 balls
This is going to be the most crucial over to be bowled by Malinga
MI would expecting another of those tight over from Malinga and a wicket or two will make it more interesting, but question remains who will bowl the last over, Pollard has 2 remaining while Corey Anderson has three, rest all of the bowlers have finished their quota of overs
OUT, widish yorker and Jadeja chops back it on the stumps, Malinga has provided the breakthrough
RUN-OUT, inswinging yorker from Malinga, inside edge and it runs away to fine leg, Manhas comes back for second and is clearly short of his crease, 1 run completed but a wicket falls
Another excellent over from Malinga, no boundaries conceeded just 6 runs and a wicket
11 to win from 6
Oh, Sudeep you gotta chose one
Heart says MI. Mind says CSK. #MIvsCSK

— Sudeep Reddy G (@sudeepgaddam) May 10, 2014
Pollard will bowl the last over, it is important for Chennai that captain Dhoni remains on strike
He starts off with a wide
Dhoni cuts to the point and get 2 runs
SIXXXXXX!!!! Dhoni sends Pollard over the deep midwicket, this surely must be the game for Chennai now
2 required from 4 balls
FOUR, GAME OVER , short and wide, slapped away to point boundary to finish off it in style
CHENNAI BEAT MUMBAI BY 4 WICKETS !
Dhoni has the last *over* laugh. #MIvsCSK

— Gaurav Sethi (@BoredCricket) May 10, 2014
#MI lose their 1st game in 10 matches at Wankedhe. Hard Luck :( #MIvsCSK

— Vaishali #NaMo4PM (@vaishali_bjp) May 10, 2014
Really feeling bad for Malinga... What a champion performer! #HatsOff #MIvsCSK

— Sumisha Shaw (@Sumisha84) May 10, 2014
Fortress breached, they say. What, has SRK got into Wankhede? #MIvsCSK

— Gaurav Sethi (@BoredCricket) May 10, 2014
This is the first time that Chennai have defeated Mumbai at Wankhade. The chase went closer than we all expected, as Chennai was crusing courtesy to Smith and DuPlesis, Malinga ensured that Chennai should have every reason to panic with some quick wickets at the dearth, however, Mr. Cool at other end took it to the last over and did it what he has been doing it over the years, and finishing the game in style.
Batting earlier, Mumbai did well, however, I probably feel that they were 15-20 runs short here, they accelerated in last few overs, if they would have done it from the initial level, the score could have been more, anyways Chennai bowlers also did really well to check them and ensured that the score doesn't get out of the reach when they come out to chase.
Mumbai has again gone to back foot now with this defeat, after two back to back wins, this is wound comes as more painful for them, while Chennai has every reason to smile as they continue their good run, having lost just 2 games.
Dwayne Smith is the Man of the Match
Final Score: Chennai Super Kings 160/6 in 19. 3 overs (Smith 57- Malinga 2/15) beat Mumbai Indians (Rayudu 59- Ashwin 3/30) by 4 wickets
That's all from tonight, this is Uzair Hasan Rizvi, signing off, have a good night !