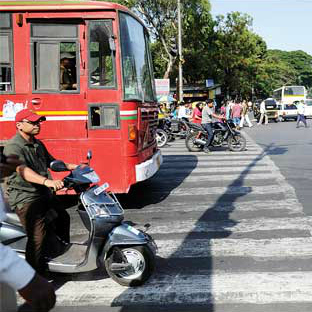 After living here for a little more than six years, I have come to realise that there is something about Pune's traffic that no adjective in the dictionary can describe. Mumbai is full of lousy Sunday drivers on a Sunday, while Pune is full of such Sunday drivers everyday. There are no traffic rules in Pune, unless a traffic cop is visible on the horizon. Zebra crossings are for lesser mortals, for the average Punekar fundamentally follows the principle of "Me first".
We Punekars are horribly backward with respect to the norms of traffic sense. And this is down to lack of education given to the masses about their responsibility as a citizen.
Just reciting the country's pledge during the morning assembly during school does not make the cut with respect to imparting this education. Schools play a vital role in framing a better tomorrow, and it is absolutely mandatory that we inculcate values of road responsibility. For every Dhoom biker, or Roadie, there is someone who has survived a near death road accident. Such issues have to be tackled at the grassroot level and the education has to be provided at a very preliminary level.
I follow an Each-One, Teach-One rule and want to ask all the Punekars to do the same, I generally travel by rickshaw and when the rickshaw driver halts for the red signal, I politely ask him to take it back, it is hard to explain them, however, I try and I get a success five out of 10 times, it is a huge success ratio. I have posted the same on Twitter as well and got a nice response form my fellow Tweeple as well. I hope every one who reads this are enough educated and are responsible about the civic sense, I request you all to educate each other.
Rule 1 – Do not halt your vehicle on the black and white lines (#ZebraCrossing), those are meant for safe walking. More rules to come after we start following this and the picture changes.
Traffic rules, ok?
Manish Pandey is a neo-Punekar and is amused by the unique traffic etiquettes of the city. Manish is a social media strategist and will be writing about his experiences on Pune roads. His Twitter handle is @join2manish