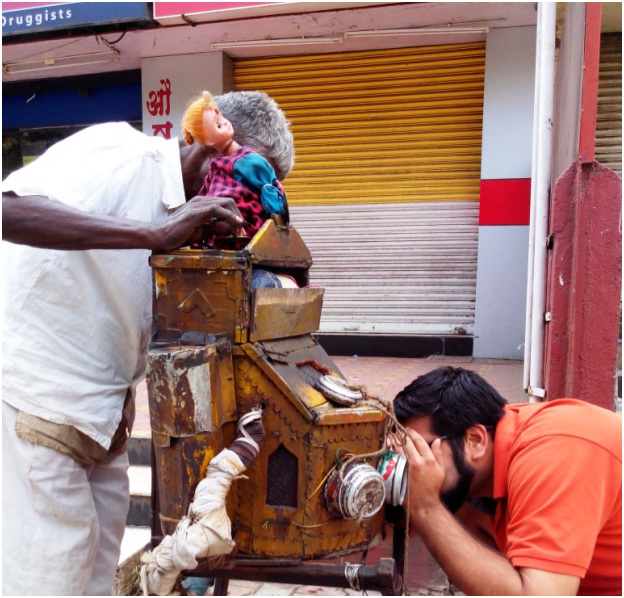 Sunday afternoons for me are generally movie time. It was this one particular Sunday when I set out with a friend to watch a no-brainer Bollywood movie when I struck gold. We came across a man who looked slightly older than 70 with leathery brown skin, visible cataract in his eyes and a long beard. He walked along the pavement carrying around with him a large colourfully painted box that said it contained magic. Curious as ever, I asked him what it was and with pride in his eyes, he claimed that it had cinema in it.
Like all things Puneri, it was shut for lunch time. As we waited patiently in a queue for him to finish his lunch, little children lined up behind us. The excitement of the kids to watch the cinema left me puzzled. It was a rare scene of how in spite of having computer games and huge multiplexes, these kids were more interested in watching the cinema that the old man had in his box. I was still clueless about what cinema I was about to watch!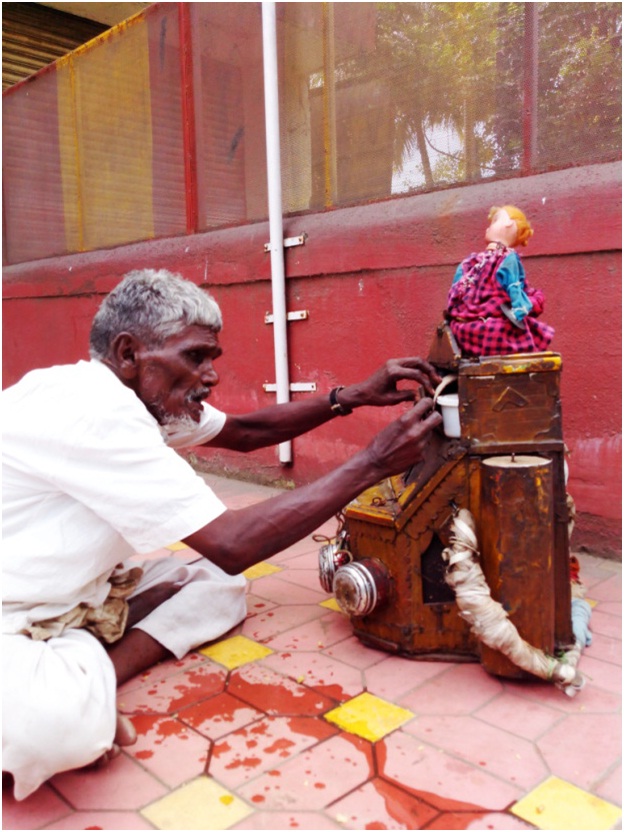 Soon enough, it was my turn to peep into the box. As the show started, I could see cut-outs from old newspapers and magazines roll in front of my eyes—right from Priyanka Chopra at an inauguration to posters of Marathi cinemas to headlines from old newspapers. Although these were just cut-outs, they were lined up with great effort. Although the rotating handle made the frame shake ever so constantly, the experience was surprisingly akin to an actual movie in a cinema hall. The movie was also was backed by soft music, but no sooner, I had started to enjoy the movie than it was over.
It was not the best movie I had seen nor was it in digital sound or 3D with latest visual effects. So what was it that made me feel so happy? So elated? That's when I realised that unknowingly, I had experienced something that very few I knew had ever had. I had actually experienced the box of joy that was the only source of entertainment in the older days. Although it is not abundantly found in today's era, it feels good that in some corner of our world, this box still entertains the masses.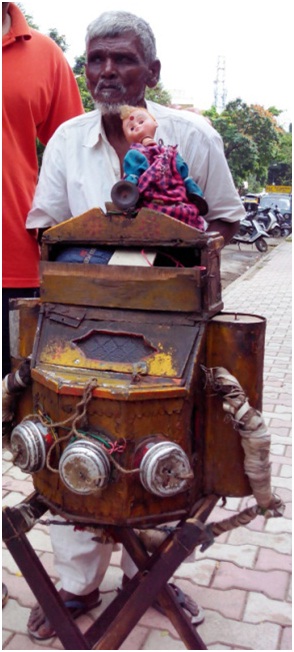 In the excitement of it all, I could not help but talk with the proud owner of the magic box. He, Shahnawaaj—meaning 'the brave one' in Urdu, lived near Dandekar bridge and often wandered off to areas nearby to earn a few rupees per show, unknowingly spreading smiles.
When we asked him how much he would price his bio-scope box, he refused to sell it. I had a feeling that would be his answer. To me, it was just another collectible but for him, it was still his source of livelihood; to him it meant the world! To him it contained the world.
About the Author
Pune-based blogger and social media junkie Soham Sabnis rediscovers the lesser known facets of Pune. Do let us know your reactions on twitter @dnaofpune and facebook . He tweets at @sohamsabnis