---
---
---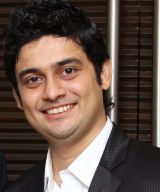 Nakul Shenoy
Renowned as The Mind Reader, this world-class magician & hypnotist is a communication scientist based in Bangalore, and haunts Twitter as @nakulshenoy. An active proponent of critical thinking & usability practices, Nakul Shenoy writes on a variety of topics here.
Closing down thousands of ATMs in Bangalore after the mugging of a woman inside one is another knee-jerk reaction that shows no intent of finding real solutions to the issues at hand, argues Nakul Shenoy.
MEA has taken a welcome step in launching a one-stop-app combining all aspects of the ministry, but looks to have lost direction without taking user needs into account. Nakul Shenoy brings to light many usability issues that haunt the latest offering.
With no deterrence in sight, we are headed to be a state of lawlessness, argues Nakul Shenoy reiterating that morality is directly proportional to the fear of getting caught and punished.
Nakul Shenoy brings to light the bad usability and unnecessary complications worked in to the online passport application process, making his case that government websites need urgent professional help.
Despite repeated terror attacks our authorities have failed to work towards making the nation and its people safer writes Nakul Shenoy, adding that this will not change till we learn to respect every single Indian life as precious.
The time is ripe to re-look at the way we secure our airports against plausible terror attacks says Shenoy, adding that the second-level security checks by airline staff only send the wrong message
Nakul Shenoy shares his personal journey of transforming from a stage shy teenager to being most comfortable on stage: all thanks to Magic. The ace magician and hypnotist is hoping some of his skills rub off on participants at his Workshop in Magic this weekend.
---