---
---
---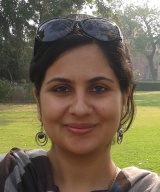 Maansi Parpiani
This blog is not on any one subject. It is by a generalist interested in seeing the mundane in non mundane ways. Maansi is a Masters in History from the School of Oriental and African Studies, University of London. Currently, she is Research Fellow at the Observer Research Foundation where she works mainly on histories of ideas, planning and development. She can be contacted at maansi15@gmail.com
Debates on the age of consent on the various TV channels not only sensationalised the issue, but also took a high-handed, almost 'parental' approach while discussing the legitimacy of gving teenagers the right to make their own sexual choices.
On the surface, the collapse of the illegal building in Shil Phata in Mumbra can be traced to the illegal builder-politician-bureaucrat nexus. Ever since the collapse, there has been a lot of official talk about cracking down on this illegal development. Can this be done in isolation when Mumbra as a whole has been largely kept out of institutional focus?
Knowledge can never create a level-playing field for all. When access to knowledge in unequal, how can it in itself become an equalising force?
The idea of 'slum tourism', while it commodifies the poor, is driven by a sense of curiosity to understand, how is it that we came to perpetuate such vast differences between the rich and the poor.
New histories are being narrated via different media. While multiple perspectives are required, it does not imply the end of scepticism.
The prevailing dominance of constantly determining the latest fashion trend couches the existence of a diversity of alternate ideas.
A public space, by virtue of being 'public' evolves in organic ways and develops a life and a zing of its own. Too much planning risks making it a tool of exclusivist zoning.
Policing couples in Mumbai's public spaces
---