---
---
---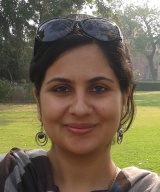 Maansi Parpiani
This blog is not on any one subject. It is by a generalist interested in seeing the mundane in non mundane ways. Maansi is a Masters in History from the School of Oriental and African Studies, University of London. Currently, she is Research Fellow at the Observer Research Foundation where she works mainly on histories of ideas, planning and development. She can be contacted at maansi15@gmail.com
Can the tools of management really help address social problems?
In a world where the idea of 'food' has come to be associated with an aspirational imperative, eating 'healthy' is the new aspiration.
Everyday fears of violence against women have sharpened in the recent past. However they are increasingly being addressed by new prescriptive do and don't lists of precautionary measures for women. This is happening even while we consistently assert that the onus need not be on the women to keep themselves safe.
A solution-driven approach to creating inclusive cities can do more harm than good. Simplistic and patronising, quick-fix solutions more often than not reduce a complex issue to a one-sided discussion, as seen in the debate over the dance bars in Mumbai.
The new wave of crime shows on TV, inspired by real life incidences focus on patrolling and surveillance. This has re-positioned perception and 'consumption' of crime on TV in the blurred spaces between news and entertainment.
Should the recognition of the objectification of the female body in plastic mannequins be necessarily dismissed as nothing but a move towards 'conservatism'?
Mira Nair's The Reluctant Fundamentalist is too simplified a version of the more real and nuanced story. It holds back from stating clearly that there can perhaps never be an answer for reductive questions of - who is or what makes a fundamentalist?
Debates on the age of consent on the various TV channels not only sensationalised the issue, but also took a high-handed, almost 'parental' approach while discussing the legitimacy of gving teenagers the right to make their own sexual choices.
On the surface, the collapse of the illegal building in Shil Phata in Mumbra can be traced to the illegal builder-politician-bureaucrat nexus. Ever since the collapse, there has been a lot of official talk about cracking down on this illegal development. Can this be done in isolation when Mumbra as a whole has been largely kept out of institutional focus?
Knowledge can never create a level-playing field for all. When access to knowledge in unequal, how can it in itself become an equalising force?
---