---
---
---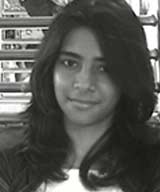 Aavrutti Sharma
This pucca Mumbai teenager, now living in Berlin as an exchange student, brings you glimpses of Germany -- especially Berlin and some other parts of Europe.
My friend and I spent over two horrifying hours at Frankfurt airport because we were not allowed to board the flight by Lufthansa Airlines
Meeting the Pope, marveling at private boats, buying beautiful masks and spending a bomb on food -- my amazing trip to beautiful Italy
However rich we become, wherever we go, all we need is happiness. Money is secondary.
Comparing Berlin with Bombay. So many similarities and a few differences.
New Year's Eve at the biggest organised party in the world -- Brandenburger Tor, Berlin. Come relive New Year's Eve with me!
Late trains, my Bollywood moment, salads, Doner and Brotwurst. Say cheese!
Getting lost, Holocaust museum, struggling with German at MacDonalds and grandma driving the car...
It's Christmas time and I am all geared up for it.
An Indian exchange student's journey in Germany -- from Namaskar to Guten Tag
---