---
---
---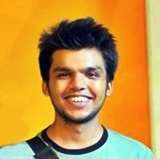 Anshul Kumar Pandey
Anshul Kumar Pandey is a graduate of Political Science and currently a student of Law in the University of Delhi. Mail him at anshulkumarpandey [at] gmail [dot] com.
The great fascist tamasha unfolding in India's political landscape threatens to brow beat and bully even the sanest voices of reason.
As Women enter workforce in the largest number for the first time in the history of human kind, they face entrenched bias and gender related hurdles even in the most unlikely areas.
A recent photo shared by a popular Facebook page put me in a quandry. When do men really mature? What is the age when it is suitable to say that a man has enough intelligence to judge between what is right and what is wrong? When do they stop being impressionable and start being rational?
Irom Sharmila, the Iron Lady of Manipur, who has been on a hunger strike against AFSPA for the last 12 years came to Delhi earlier this month for a court hearing. This was her only second visit to the national capital, the first one being in 2006. I met her at Manipur House, the state guest house where she put up for the couple of days that she was in the city.
The events of the past week involving the brouhaha over Kamal Hasan's latest film is a reminder of how intolerance and narrow mindedness has percolated the fabric of our society.
The Justice Verma Committee recommendations regarding sexual violence against women in conflict areas by the armed personnel are a victory for its many forgotten victims like Thangjam Manorama and Soni Sori.
---