---
---
---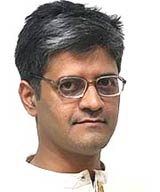 Amberish K Diwanji
Politics, society, economics, life, this & that...
If the government can provide security to Robert Vadra, then surely it can and should provide security to Mukesh Ambani
The Ganpatrao Deshmukh committee wants the suspension of the 5 MLAs, who assaulted a police sub-inspector, revoked. This only shows how low our politicians can get.
There is no reason to doubt the fairness of elections held in the recent past, but the Election Commission's refusal to look into claims that the EVM can be tampered with only raises doubts and suspicions
By targetting James Laine, radical groups are merely choosing the easier option of going after an academic rather than those who actually crack jokes
Whether Indian Americans liked or disliked Joel Stein's column, seeking an apology for it was uncalled for and condemnable behaviour.
Comparing how the British treated its servants and how India treats its freedom fighters makes for painful reading
Because deep down, we wish we could have been like him
Abdul Kalam wasn't insulted by the staff of Continental airlines; he was humiliated by the Indian government that constantly seeks privileges for its political class without regard to their service record or stature.
---