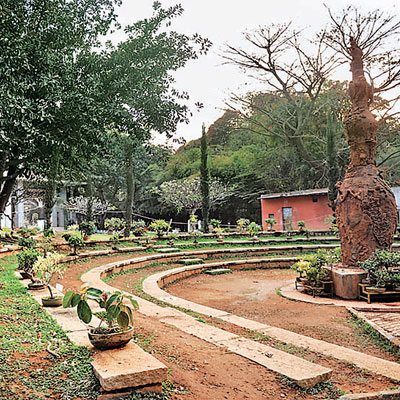 Srinivas had only one condition when he donated 454 bonsai plants to Lalbagh in 2002—to name the bonsai park after his parents. The condition was immediately accepted by the horticulture department. Twelve years later, not only has the park not been named after Srinivas's parents, the director of horticulture department, DL Maheswar, has even officially denied to do so.
Justifying his decision, Maheswar stated that a high-level committee (Suvarna Karnataka Udhyana Parishath) held in 2010, headed by the then minister for horticulture SA Ravindranath, had decided not to name the bonsai park after HS Seetharam and Rathnamma.
Seetharam was the first mayor of Bangalore and in 2002, the horticulture department had agreed to name the bonsai park after him and Rathnamma, as requested by Srinivas.
The then horticulture minister Shivappa laid the foundation stone for the park in the presence of the then KPCC president Allam Veerabhadrappa and Srinivas was one of the guests at the event.
The minutes of the horticulture department meeting held on March 22, 2003, confirmed the name of the bonsai park as HS Seetharam and Rathnamma Bonsai Park and Srinivas was authorised to supervise the park on a honorarium of Rs 15,000 per month.
In 2006, Srinivas visited the US for a brief period. On his return, he was shocked to see that the foundation stone was missing. What followed was a series of visits to the Lokayukta and other departments as Srinivas failed to get justice from the Lalbagh authorities.
Incidentally, in 2011, the then urban development minister S Suresh Kumar and Ravindranath held a meeting, in which it was decided to reinstall the foundation stone and name the bonsai park after HS Seetharam and Rathnamma.
Suresh Kumar even wrote a letter to freedom fighter HS Doreswamy in this regard on November 4, 2011. However, till date the horticulture department has not taken any initiative to implement the decision taken during the meeting.
"I am not aware of the letter written by Suresh Kumar to HS Doreswamy. I advise you to contact the joint director of horticulture department, HS Shivakumar," said Maheswar.
"It is disgusting to know that the director of the horticulture department is not aware of the documents available in his own department. How can he forget the meeting held in 2011 when he can remember the meeting held in 2010," Srinivas questioned.
When contacted, HS Shivakumar feigned ignorance over the letter written by Suresh Kumar. However, he acknowledged it after this correspondent read out the content of the letter over the phone.
"Yes, the letter is with us. I will bring it to the notice of higher authorities. It is they who have to take a call on it," Shivakumar said.