Having screened kannada movies for 40 years, It may make way for a mall.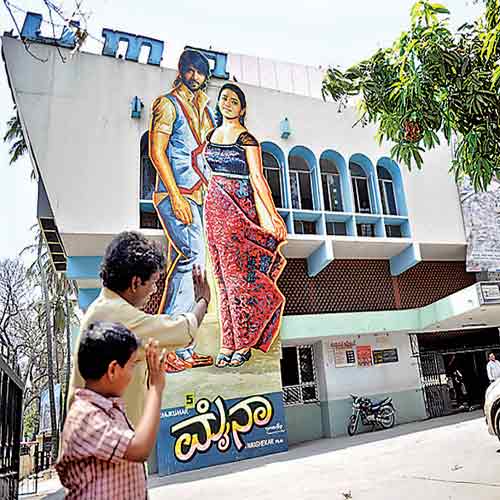 One more theatre in Bangalore city is set to become history. Efforts are being made to demolish Uma theatre on Bull Temple Road to make way for a commercial complex.
Uma theatre, inaugurated on November 24, 1972, was the most favourite destination for cine buffs not only in and around Chamarajpet but also in other areas. The theatre has had the privilege to host Dr Rajkumar, Shivarajkumr, Puneeth Rajkumar, Ganesh and Sudeep for watching Kannada films.
Though the theatre management screened a few Hindi films too, the first Kannada film to be screened at Uma theatre was Rajesh and Kalpana-starred Mareyada Deepavali. Recently, Chamarajpet was agog with rumours about the imminent demolition of Uma theatre to make way for a commercial complex.
According to reliable sources, Chandrasekhar Raju and his family members had constructed Uma theatre on a land taken for a lease valid up to 2015. The rent for the land per month was fixed at Rs1,500 and the land owners had approached Uma theatre management to hike the rental and the latter had agreed to increase it to Rs40,000 per month.
However, the landowners approached the deputy commissioner to cancel the licence of Uma theatre and the theatre management approached the court for justice. It was said the court had directed the deputy commissioner to restore the licence of Uma theatre. "The management will continue screening films till 2015," says S Janardhan, manager, Uma theatre.
However, the occupancy at Uma theatre has been far below expectations for the last two to three years.
Staff members of Uma theatre attribute poor quality of Kannada films and satellite channels are the main reason for the dip in box-office collection. For example, only about 60 people were in the hall for morning show of Kannada film Myna at Uma theatre against the capacity of 1,000 seats.
"We have been working at this theater for more than three decades. We are grateful to the management for looking after us well. With their goodwill, we are able to provide good education for our children," said an employee of Uma theatre, adding that he was confident that nothing would happen to the theater till 2015.
Many residents around Uma theatre feel that it is an ideal theatre to watch Kannada films. They said that it was Uma theatre that screens only Kannada films.
"It is very convenient for us to watch Kannada films at Uma theatre. If the management decides to demolish it, we have to go to Majestic area for watching Kannada films," said Usha, a housewife.
Echoing the opinion, Keerthi, a housewife, recalled how she and her family members enjoyed watching Kannada films at the theatre.
"We will never forget the hilarious moments while watching Kamal Haasan and Ramesh Aravind-starrer film Rama Shama Bhama," says Keerthi.
@ymrconnect