States promote lesser known aspects of their tourism at travel fair.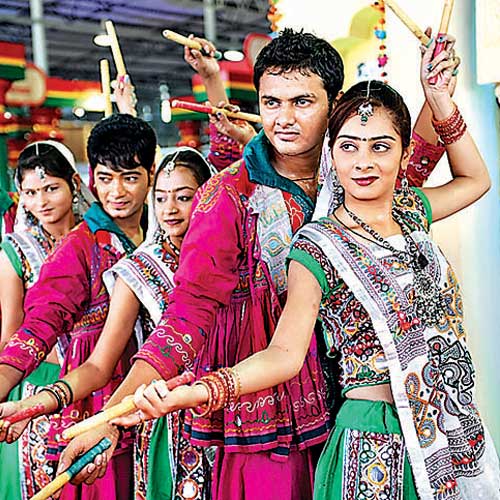 If beaches like Baga, Candolim, Colva or Agonda, or even say Om beach is a tried and tested holiday plan, why not head North to say beaches like Tithal, Porbandar, Daman, or Mandovi? Or Paro or Punakha for water sports, over the usual Rishikesh and Haridwar, for that matter?
To attract the outbound tourist from Bangalore, states like Gujarat and Andhra Pradesh, and countries like Bhutan are aggressively bringing to the forefront lesser known aspects of their tourist destinations.
"There is a beach festival held almost every month across beaches in Daman, Diu, Tithal, Somanth. We hold cultural events on the beach like folk dances, garba," says Deepak Turi, a professional garba and dandiya dancer from Rudraksha Event Company, Ahmedabad.
Likewise, beaches like Rishikonda in Vizag, Suryalanka near Guntur, are a welcome respite from the crowded and commercial ones in Goa and Pondy, says Syed Waseem, from Andhra Pradesh Tourism.
"Places like Paro and Punakha are fertile for watersports like river-rafting, canoeing, as well as cycling and trekking," says Virender Khatri, from Ren Tours, Treks and Expeditions, that conducts tours to Bhutan.
Travel experts say it is high-time enthusiasts start exploring upcoming destinations, which have the same to offer like their better known counterparts.
Rajasthan and its deserts are quite popular with the Bangalore traveler, says Turi. "But in Gujarat we have the Rann Utsav going on till February in the Rann of Kutch region, where there is a camel festival coupled with traditional arts and dances. This is equally exciting," says Turi.
He adds that just like the havelis, forts and temples dotting Jaipur, Jodhpur, Bikaner and Jaisalmer; places like Palitana, Champaner, Somnath and Pavagarh in Gujarat also offer a similar experience in culture and architecture.
According to Khatri, Bhutan had attracted a mere 10,000 tourists from India last year. Much less than what the neighbouring Himalayan country Nepal attracts at over 1.5 lakhs annually. "We are seeing a gradual increase from Bangalore travelers who frequent places abroad, and now want a break from the jazz of Singapore, Malaysia and Thailand," he says.
Discount period starts
Travelers not restricted by schools and colleges can make the most of the discounts offered from now till March. Experts say almost all resorts, hotels and package tours will cost approximately 20-30% less than the peak months of April, May, Diwali season and December.
"Resort rooms which charge Rs 4,500 per night during peak time, will bring down their rates to less than Rs 3,700 this season," says a tour operator from Kerala.
According to A Manju Kumar, who conducts international tours, prices on popular routes like Thailand-Malaysia-Singapore fall by as much Rs 10,000-20,000 per head.
"Like a 4N/5D package to Malaysia that would have cost Rs 65, 000 per head last month, now costs about Rs 45,000-50,000," says Kumar.