E-commerce firms gear up for V-day, expect 300% increase in sales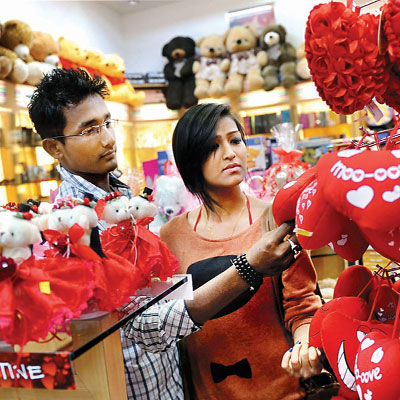 Geared up for Valentine's Day, e-commerce companies are expecting a 300% increase in online sale and gifting by the end of this week.
While product categories like accessories, jewelry, women's apparel, cosmetics and perfumes are seeing maximum demand, average transaction sizes are varying from anywhere between Rs 1,500 to Rs 10,000.
"We are seeing a nearly 300% rise in online gifting, wherein people book a gift online and get it shipped to the person concerned," says Praveen Sinha, co-founder, Jabong.com.
CEO and MD of PAYBACK India, Vijay Bobba, says in categories like apparel, cosmetics and perfumes, "there is three to four times more sale in the month of February, compared with January. We have seen this in 2012 and last year, and expect the same this time around." Experts say with the growth in e-commerce, marketing centric activities are also on the rise.
"Days like Valentine's are after all marketing gimmicks aimed at increasing sale of products. From greeting cards costing Rs 50 sometime ago, accessories and apparel costing thousands have taken centrestage now, especially in the light of the online boom," says Anish Shah, an avid online shopper who buys everything from groceries to gadgets online.
Shah has already splurged Rs 9,000 on perfumes and apparel for his wife for this V-Day.
Moreover, with the entry of cashback sites in the past two years, the trend of shopping online, and making money in the bargain has also caught up with youngsters.
Post buying through cashback sites, shoppers end up getting an amount on every transaction, which varies from 1-50% of the sale value.
After a substantial amount has been collected through cashback, shoppers can raise requests for transferring the amount to their bank accounts.
"If you go to Myntra or Jabong via us, and shop for say Rs 400, we give you back say Rs 180 as cashback on your order. We are seeing lot of demand for cashback from e-shoppers," says Swati Bhargava, CEO of cashback site Cashkaro.