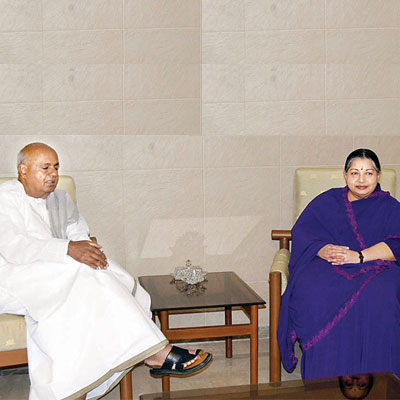 Former prime minister HD Deve Gowda clarified that he will not contest for the prime minister's post, even if the third front comes to power in the Lok Sabha election.
In an interview with dna on Tuesday, Gowda analysed central and state politics and spoke about his role in active politics.
"There are leaders such as Mulayam Singh Yadav of Samajawadi Party, Nitish Kumar of JD(U) and Jayalalithaa of AIDMK who have the capacity to become the prime minister and I am going to support them by strengthening the JD(S) base in Karnataka and giving a good numbers of MPs from the state," Gowda said.
"It seems Jayalalithaa, the CM of Tamil Nadu, has lots of interest in entering national politics and certainly she will be a strong leader of the third front," Gowda said.
"There is no Modi or Rahul Gandhi wave in the nation as BJP and Congress are claiming. If you look at the national scenario, many states are ruled by regional parties, including Tamil Nadu, Bihar, Uttar Pradesh. Regional parties are strong in Karnataka, Andhra Pradesh, Kerala, Punjab, Jammu and Kashmir and other places as well. If at all the leaders including Nitish Kumar, Mulayam, Jayalalithaa, Mayavathi, Mamatha Bannerji, (Left parties), Jaganmohan Reddy and Chandra Babu Naidu (Andhra Pradesh) come under one umbrella, the third front would cross 270 in the coming Lok Sabha elections," he said.
"In Karnataka, national parties practice electoral politics and they would do nothing beyond it. If the Third Front is formed, I will be the first person to ensure that the interests of Karnataka are protected," Gowda said.
Gowda declined to take credit for the rebirth of Third Front politics in the national level. "The Left parties, mainly the Communist Party, is the reason for the existence of the Third Front since 1996 and its leaders including Surjit Singh Barnala, Jyothi Basu played a major role," Gowda said.
On Siddaramaiah government
"I don't want to comment on the eight-month-old Siddaramaiah government. However, I am deeply hurt as the Congress government is doing injustice to my home constituency Hassan. The people are suffering from drought and the cattle are dying. No proper facilities are arranged for them," Gowda said. "The government is announcing projects every day and nothing is happening in reality," he said.
On retirement plans
Gowda had earlier said this would be the last LS election he would participate actively in. When asked about it, he said he would not retire from active politics till his body supports him.