Namma Metro's Majestic station will be the interchange station, where routes of Phase I and Phase II will intersect.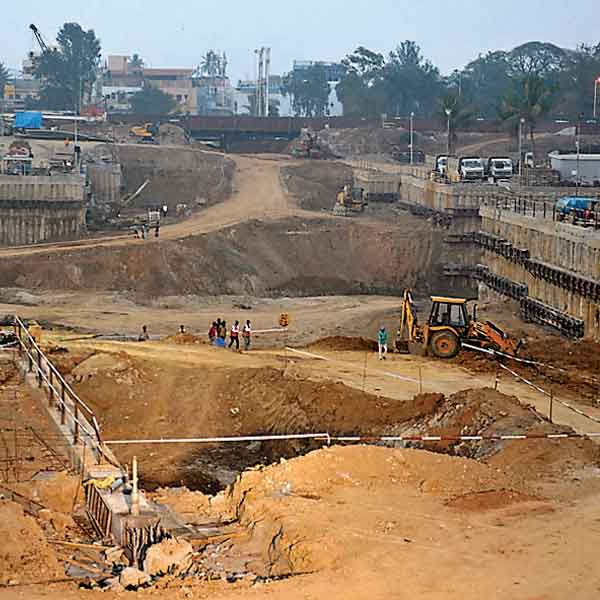 The Majestic interchange station, where the north-south and east-west corridors of Namma Metro will intersect is indeed a majestic project. The Bangalore Metro Rail Corporation Limited (BMRCL) has allocated a spending budget of Rs277crore for the project, which will be the centre-point of the Phase 1 and Phase 2 projects of Namma Metro.
As per the plan, there will be two level underground stations, the east-west corridor will be 12 metres below ground level, while the north-south line will be 20metres below ground level. There are five entrances planned for the station — two from Shantala Theatre side (including a subway), two from the existing KSRTC side and one from Dhanavantari Road. The majestic underground interchange station can be easily accessed by people traveling in KSRTC, BMTC or the Railways, which are all located very close to the station.
Chief public relations officer, BMRCL, Yeshwanth Chavan, said, "The safety of passengers at the interchange is paramount at every stage. We have to ensure that the ventilation and air-conditioning system of the station works perfectly. Technicalities involved in the construction this station differ from other stations which are above the ground level."
The official added that the ongoing construction work at the Majestic station is progressing as per schedule. The interchange station should be completed by 2014. It can be recalled that a year or so ago, BMRCL had acquired land from the KSRTC to carry out the work.
At present, the BMRCL is using 20.23 acres of land for the job and once the civil works is completed it will retain only 7 acres (which will include the metro interchange station) and the remaining land will be handed over to KSRTC.
The metro work at Majestic is crucial for various reasons. Two imported tunnel boring machines (Helen and Margarita) have started their journey of tunneling from the same location.
Work under way
At present, both the machines have succeeded tunneling till the Vidhana Soudha metro underground station and are now proceeding towards Minsk Square. On the other hand, two other tunnel boring machines, which were proceeding from KR Market, will reach the Majestic station soon to continue operations towards Sampige Road in Malleswaram.
@suchithkidiyoor