Most did not understand what he said and started leaving early.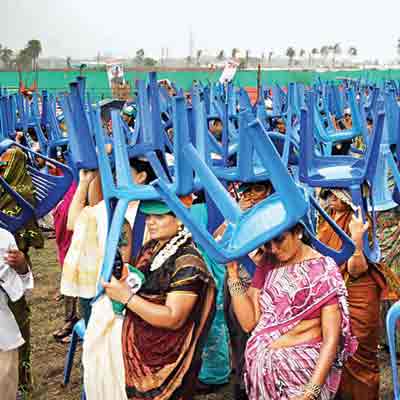 After the rant and bombast of Narendra Modi on Sunday, one might have expected prime minister Manmohan Singh to take on the Gujarat chief minister point by point. But that didn't happen on Monday, with Singh trying to drive home his own point.
Not that it made any difference to the hundreds from surrounding villages who had descended at Kumbalgudu on the outskirts of the city to listen to the prime minister. Most didn't understand Singh's language, and the crow had started thinning even before he had finished.
The prime minister's speech was one of lofty promises, most of which probably didn't make sense to the 10,000-odd crowd that had gathered.
Singh promised that if voted to power, the Congress would provide world class infrastructure to Bangalore city.
"Bangalore deserves the best and Bangaloreans deserve the best. We will be able to do everything for the city," he said.
If the crowds were there for promises of a better livelihood, it came in the form of one for the Bangalore-Chennai industrial corridor. "This project will bring employment to the people of Karnataka. It will come to you if you vote Congress to power," Singh asserted.
He blamed the delay in the Namma Metro project on the BJP, and said the Congress would accord it top priority of the party returned to power. Singh then went on to criticise the BJP government for his misgovernance and insisted that industries were moving out of Bangalore since little attention was being paid to infrastructure.
"I loved the cosmopolitan culture of the city. However, since the last five years everything seems to be slipping, and Bangalore is falling behind (others). Seven years back when the Congress was in power, Bangalore was a model for other cities of the country. Everyday we used to hear success stories of the city. The BJP has reversed it," he said.
"Industrialists are now turning their attention towards Pune and Hyderabad. Bangaloreans are frustrated with BJP rule. Give us a chance, and the Congress will provide the best including infrastructure, public transport, sports facilities," Singh promised.
He also spoke of the shortage of power and drinking water, and said that the state of law and order was not satisfactory and security of the people was not a concern (of the BJP).