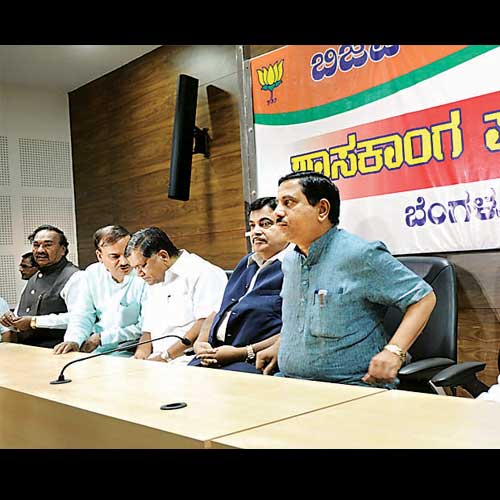 In its first meeting after the assembly poll debacle, the BJP has elected former chief ministers Jagadish Shettar and DV Sadananda Gowda as the opposition leaders of legislative assembly and legislative council respectively.
Former national president of the party, Nitin Gadkari, chaired the meeting of legislators attended by the party's general secretary Ananth Kumar, state party president Prahlad Joshi and former deputy CM KS Eshwarappa.
The party cleared the names of deputy opposition leaders in both of the houses. Former deputy chief minister R Ashoka will be the deputy opposition leader on the floor of legislative assembly and former minister KB Shanappa will be the deputy to Sadananda Gowda in the legislative council.
Although the BJP and the JD(S) have secured equal number of seats in the assembly polls, it is the JD(S) that is likely to get the role of the main opposition party as it polled more votes than the BJP. In the legislative council, the BJP members have 40 of the 75 seats.
BJP spokesperson G Madhusudhan said a meeting would be called soon to introspect on the party's defeat in the assembly poll.