Parents of children with rare diseases seek government support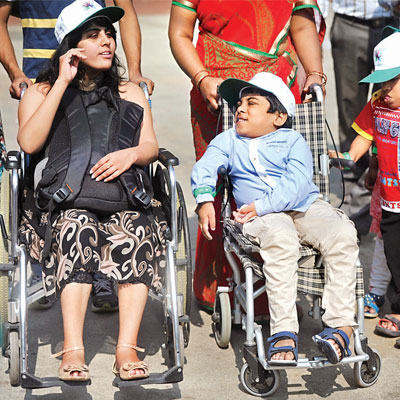 With both his sons suffering from lysosomal storage disorder, a rare disease, 36-year-old Sonu Pandit, a native of Uttar Pradesh, has been running from pillar to post seeking government aid for their treatment.
As per the existing medical history, there is no medication available in India for treating lysosomal storage disorder. Enzyme Replacement Therapies (ERTs), manufactured by Genzyme, is the only known treatment for the disease. The lifelong therapy costs nothing less than `1 crore per year and Sonu is left in the lurch as he is unable to afford the treatment.
Sonu's is not an isolated case. There are over 585 people, mostly children, who are suffering from lysosomal storage disorder in India. Speaking to dna at an event organised to commemorate the fifth edition of Rare Disease Day in the city on Friday, Sonu, who runs a dairy business said: "My elder son Krishna was diagnosed with MPS II, a form of lysosomal storage disorder that is caused by enzyme deficiency, when he was four year old. Prior to that, as he had difficulty in breathing, we had taken him to several doctors and later I met a doctor in Delhi who sent Krishna's blood samples to Taiwan, following which we got a confirmation that he was indeed suffering from lysosomal storage disorder."
It came down on him like a tonne of bricks when Sonu discovered that even his second son Jay was suffering from MPS II. "The cost of ERT is very expensive. If the treatment was for a year, then we could somehow managed, but it for life long. As part of the lysosomal storage disorder support group, we have made several request to the state government as well as the Union government to provide free treatment, but there is no response. There are just about a handful of people (about 500) affected with lysosomal storage disorder in India. Why can't the government afford to fund their treatment", he further stressed.
Meanwhile, about 80 children in India are currently receiving ERTs under the Charitable Access Programme of a US-based company. 21-year-old Suhas (name changed on request) is one of the lucky ones to receive the treatment. Suhas was five years old when he was diagnosed with spleen enlargement, another form of the lysosomal storage disorder. Since then he has been on ERT treatment.
"After 18 years, my son is now on oral treatment. He is doing fine and is pursuing BTech. We don't know what will happen in the future when the charity stops. The Government of India should do something for children suffering from lysosomal storage disorder soon," said his father.
Over 200 children suffering from lysosomal storage disorder and other rare diseases like Down's syndrome, from across the country, along with their parents, were present at the event.