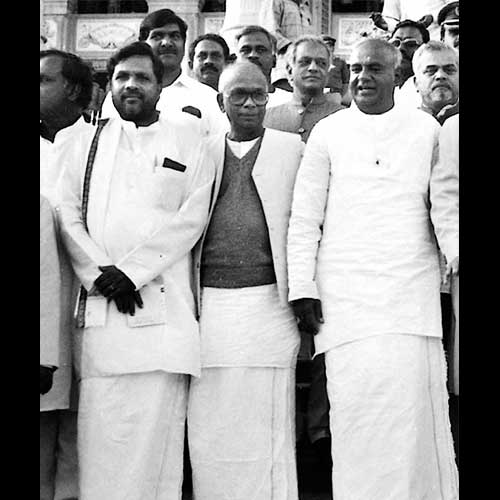 An adamant but a bright young lad. This is how the new chief minister's kin and long-time acquaintances describe him. "Siddarama" means a person who does what he wants and the young man who would go on to become Karnataka's 22nd chief minister more than lived up to his name; right from his childhood, he was headstrong and uncompromising.
He was born to Siddaramegowda and Boramma in Siddaramanahundi, about 20 kilometres from Mysore. He has three siblings. When just a boy, Siddu was not keen on education, more interested in his father's cattle and fields. It was his father who goaded him towards education. A village elder, Appaji, was his first teacher. Siddu drew his first Kannada letters on sand in the backyard of a temple, next to his father's house.
The new CM's uncle Rame Gowda said Siddaramaiah's father did not earn much and had to save every penny for his education. The young boy, after joining school, would help his father wherever he could, carrying ration and vegetables for the family from the marketplace that was 10 km away from their village. He would walk the entire distance, and his father would reward him with masala puffed rice, which was dear to Siddu.
Another uncle of Siddaramaiah, Siddegowda, said they knew from the start that the boy was anything but ordinary. He claimed that his nephew is the first graduate of the village, that too a lawyer. He said that after completing his law education, Siddaramaiah worked as a junior under a lawyer in Mysore, Chikkaboraiah, who graciously took him under his wings.
Chikkaboraiah, now in his 80s, said Siddaramaiah took copious notes, studied every case meticulously and argued well in the court. He said Siddu would have made a mark in the field of law had he not drifted to politics. Another senior colleague of Siddaramaiah in legal profession, Thammanna Gowda, said he knows the former since 1979. He said that Siddaramaiah not only practised law, but also taught part time in a local law college.
He described how he was surprised when he once visited Siddaramaiah's room, as there were more books than there were clothes. He added that as far as he knows, Siddaramaiah slept on a cot and led an abstemious life throughout his scholastic life.