Many patients are missing their daily dose of medications as a result.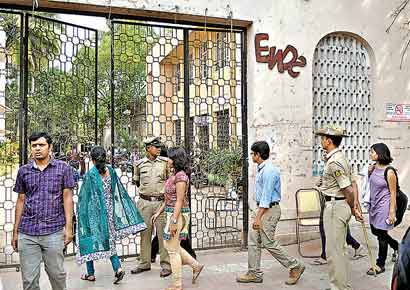 Ramadevi, a cancer patient, has not seen her regular nurse who knows her case history for almost a month now. She has been missing her medications and treatments as the new nurses don't know her case. She says that the quality of service at the city's Victoria Hospital, attached to the Bangalore Medical College and Research Institute, has come down drastically.
With over 409 nursing staff, who were on contract basis, being terminated from duty on Monday following an order from the Governing Council of the BMRCI, many like Ramadevi have been missing their daily dose of medication since January 9, when the nurses went to strike.
Medical services at government hospitals like Bowring and Lady Curzon, Victoria, Vani Vilas and Minto are severely affected, with most of them working on just 50% capacity.
"We had 120 contract nurses. Apart from them, we have three nurses on grade one and five nurses on grade two. We have 14 senior nurses and 44 regular nurses apart from seven of them who are on contract but have resumed duty. We are working on just 50% of the staff strength," said Some Gowda, medical superintendent of Vani Vilas Hospital.
Meanwhile, Bowring and Lady Curzon Hospital too is facing similar issues. "We are short staffed already. Over 147 nurses are on contract here and they have gone on protest. Now they have been terminated. We are facing issues and also allegations of negligence with PG students and nursing college students helping us. We are not sure how we will cope with the situation," said a senior official of the hospital.
While the Out Patients Department (OPD) of these hospitals see a minimum of 200 to 400 patients daily, the officials say that in-patients are the ones who suffer the most.
Almost 15 to 20 deliveries take place at Bowring and Lady Curzon Hospital everyday while 40 to 50 of them take place at Vani Vilas Hospital. These hospitals also take cases referred from other hospitals like BBMP hospitals for instance.
"We are not even conducting elective surgeries which can be planned earlier. Only emergency services are working as there is a shortage of nurses. Even the surgical ICU of Victoria hospital has not been working since a month as these nurses were working there," said another official on condition of anonymity.
This condition will not stop until the 600 odd nurses are recruited on permanent basis. "The process for counselling for those nurses will take 20 working days. The exam took place on February 4 and the merit list will be out soon. Counselling will take place and we will recruit them," said Dr OS Sidappa, dean and director of BMRCI.
We are short staffed already. Over 147 nurses are on contract here and they have gone on protest. Now they have been terminated...We are not sure how we will cope with the situation.
—A senior official of Bowring and Lady Curzon Hospital

@DeepthiMR