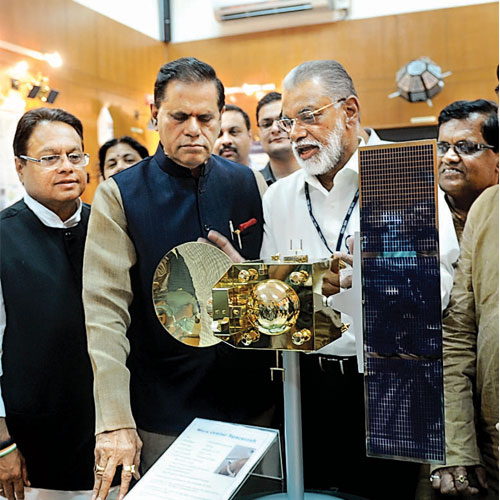 So, what is the secret behind the Indian Space Research Organisation (Isro) success? It's not rocket science. Well, not entirely, if you hear what a MP had to say.
According to Rajya Sabha MP and Chairman of Parliamentary Standing Committee on Science & Technology, Environment and Forests T Subbirami Reddy, the recipe behind Isro's smashing success is science coupled with divine power. Yes, you heard it right.
Reddy, who visited the Isro Satellite Integration and Test Establishment and reviewed Isro's performance on Wednesday, spoke his mind on Isro's divine connection. "A secret I discovered is that Isro chairman Radhakrishnan and his team of scientists have two powers: one is scientific and the other is divine. Radhakrishnan and his team of scientists regularly go to Tirumala to seek the blessings of Lord Balaji. They have the blessings of god, otherwise I don't think it is possible to achieve what they have."
Reddy then remembered to add hard work to the list.
"I found that apart from hard work, they are also drawing power from Lord Balaji," Reddy said.
Reddy then waxed eloquent about Isro's performance, saying that by successfully launching 110 missions Isro had drawn the attention of developed countries.
"Earlier there were only five space powers: USA, Russia, France, Japan and China. Now, India has joined this league as the sixth country. We are now recognised by these countries and they have become our collaborators, which is a huge achievement," Reddy said.
Isro and the tirupati connection
Isro's connection with Lord Balaji at Tirupati is quite old. It's an Isro tradition to offer prayers to Lord Balaji before every rocket launch. A miniature model of rocket and satellite is placed before the deity and blessings are sought for a successful launch. Isro chairman K Radhakrishnan is ardent follower of this tradition. Prior to important launches like the recent Mars Orbiter Mission (MOM), he visited Tirupati and sought the blessings of Lord Balaji. Following the successful launch, he also paid a thanksgiving visit. Rationalists had slammed this act. Chief of Federation of Indian Rationalist Associations Dr Narendra Nayak had said that Isro chairman had insulted the Constitution by violating Article 51 A. Bharat Ratna awardee and eminent scientist CNR Rao had termed Isro's tradition of going to Tirupati as a superstition. "Human beings are scared. They think that if they visit temples, they will be blessed with success. What to do?" Rao had quipped.