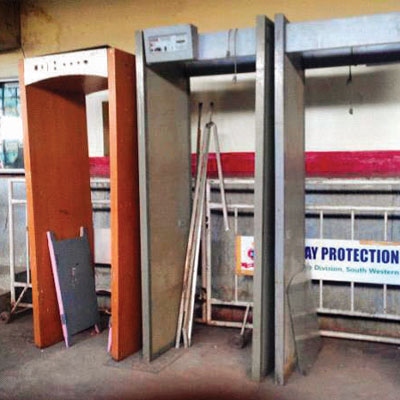 It's been exactly a month since home minister KJ George told the legislative assembly that two railway stations in the city are on terrorists' radar. Security must have been beefed up, then, right? Wrong.
Bangalore City railway station and Yeshwanthpur railway station continue to remain sitting ducks. With multiple—and unguarded—entry points and defunct/non-existent scanners, planting a bomb there is pretty much like a walk in the park.
Railway Protection Force (RPF), which is in charge of railway stations' security, does not believe in preventive measures like asking people to go through metal detector or screening their belongings through a luggage scanner. These correspondents visited the two railway stations and found that the abovesaid security equipment were lying unplugged in a corner. People could walk in and out of the stations freely, without any scrutiny.
And it's not that the authorities concerned are not aware of it. Actually, they don't think highly of the ability of these equipment. Nageshwara Rao, assistant security commissioner, RPF, South Western Railway, put it succinctly, explaining why the equipment at Yashwanthpur railway stations are defunct.
Eye of the tiger, eh?
"If metal detectors are put in place and everyone has to be checked, it will consume a lot of time. The machine would beep whole day. We use our professionalism and instinct to judge people," he said.
He said the RPF has appointed a couple of armed men at each entry point to the Yashwanthpur railway station. dna's reality-check showed otherwise. There are multiple entry points, totally unguarded. Even the RPF kiosks do not have any attendant all of the time.
To this, Rao said: "There are CCTV cameras in the station. They are hidden. The police men are also keeping a check on the people from far. We check only those whom we find suspicious and not everyone."
He said the station would get more CCTV cameras, and the process of installing luggage scanners was on.
Security? Really?
Ravi, who works at the IRCTC canteen on Yeshwanthpur railway station, said the metal detectors work only once in a blue moon. Dilip, who works at Nandini milk parlour on the station, said he has never seen the scanner being used. Also, he said that for the past three months, they see police at night, but they never check anyone's luggage. Raj, a porter working at the railway station, said screening of passengers coming into the station is done only on Republic Day, Independence Day and New Year. He said the equipment was indeed working this Republic Day.
Rao confirmed this and said the RPF takes extra protection on the abovesaid important days, besides during Dussera and December 6, the anniversary of Babri mosque's demolition. He made light of home minister's remark in the assembly past month, where he said Yeshwanthpur railway station was on terrorists' radar. Rao said the alert is "an old one".
Situation of Bangalore City railway station is no better. According to station manager SR Bhaskar, the average footfall at the station is 1.5 lakh a day. Here, too, the correspondents found that metal detectors had been conveniently placed next to a wall. Here too, multiple, unguarded entrances and broken boundary walls exposed the glaring loopholes in security.
Police do not check passengers' luggage or ask them to go through metal detectors. Nevertheless, the RPF insists that Bangalore City railway station is under its surveillance through CCTV cameras.
A railway employee working at the City railway station said the police are always present there, but they become alert and vigil only after a major untoward incident takes places. He said he did not have confidence if all the CCTV cameras worked.
Never mind if these busy places routinely figure in city police's list of locations that are on terrorists' radar.