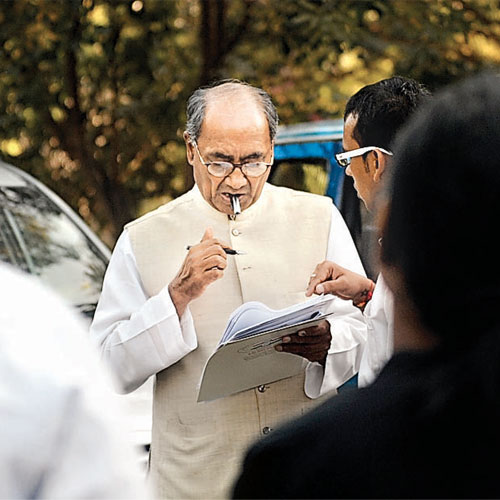 Congress general secretary and incharge of Karnataka Digvijay Singh on Sunday met MLAs unhappy over the recent inclusion of DK Shivakumar and Roshan Baig into the cabinet.
Digvijay Singh, who is in Bangalore to attend the coordination committee meeting, was besieged by disgruntled party MLAs soon after entering the Kumarkripa government guest house in the city.
Senior Congress leaders Malakayya Guttedar, KB Koliwad and others complained about how the party had been unfair to them.
Speaking to media persons, Gutterdar said he had conveyed the problems in the party and also appraised Digvijay Singh about the repercussions of the inclusion of Shivakumar and Baig. "I have explained everything and Singh assured me of solving the problems soon," he said.
Koliwad also expressed the same opinion. He said, "I have served the party for many years. I am a senior leader and the party has to recognise my work," he said.
Digvijay Singh said he will try to solve the problems. "It's common to have small differences. I will discuss them at the co-ordination committee meeting on Monday," he said.
Party sources said Congress leaders would caution Singh that the party would face problems in the coming LS elections over the inclusion of 'tainted' ministers at the cost of loyal party workers.
KPCC chief G Parameshwara also met Singh and discussed issues that would be raised in the coordination committee meeting.