Voter unhappiness a latent factor at KR Puram, where economy has been kept on boil by massive land boom after ITI and NGEF, which defined the area, declined.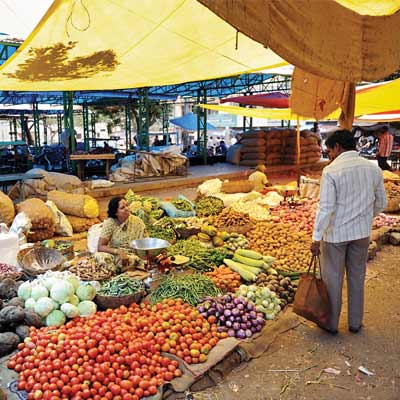 Some decades ago, Krishnarajapuram was just a large village on the Old Madras Road, but it also hosted one of India's premier public sector unit, Indian Telephone Industries (ITI) which was synonymous with telephones before the telecom revolution began in the nineties.
The once-sleepy village woke up to development in the fifties with the giant ITI coming up. It became the preferred residential destination for employees of ITI and the New Government Electrical Factory (NGEF). Now both the factories have become defunct, but the land boom has kept the local economy on the boil. Now, Krishnarajapuram is defined by the cabled stayed bridge that begins at the Tin Factory and terminates at the entrance to the ITI.
Also known as KR Puram, it is located 15 km from Majestic and is the headquarters of the Bangalore East taluk. The assembly constituency, carved out of Varthur and Yelahanka assembly constituencies in 2008, is an amalgam of the urban and rural, and has eight BBMP wards, Vijanapura, K R Puram, Basavanapura, Hoody, Devasandra, A Narayanapura, Vignananagar and HAL Airport. All the wards, barring Basavanapura which is held by Congress, are represented by BJP corporators.
KR Puram had about 3,08,339 voters in 2008 - 1,62,530 male and 1,45,809 female. According to reliable sources, the number of voters is expected to increase by 50,000 in 2013.
The sitting MLA, realtor Nandish Reddy of the BJP, won the 2008 election defeating then minister A Krishnappa of the Congress. The high court had set aside Reddy's election in June 2012, but he got a stay from the Supreme Court. Reddy has been renominated by the BJP and his main rival is Byrathi Basavaraj of the Congress. Denied the Congress ticket, A Krishnappa is contesting as JD(S) candidate from Hiriyur in Chitradurga district. According to analysts, Basavaraj, who has been nurturing the constituency over the last few years, is set to give stiff competition to Reddy in this election.
KR Puram and surrounding areas such as Devasandra and Ramamurthy Nagar are known for Telugu- and Kannada speaking population. Majority of the population belong to Reddy and Yadava communities. The area is also known for its two lakes - Vengayyana lake and Yellamallappa Shetty lake. Water from the lakes used to irrigate thousands of acres a few decades ago. With the real estate boom peaking, irrigation lands disappeared and various residential layouts sprouted.
KR Puram and surrounding areas are known for educational institutions such as Garden City College, SEA Group of Institutions, Daya Nivas Sisters College, Capital College, etc.The Mahabaleshwara and Rama temple complex, situated adjacent to the lake, is a historic temple.
Kote Venkataramana and Kashi Vishweshwara temple is a historic temple and is believed to have been built during the reign of Ganga kings. The chariot festival or 'Rathotsava' of this temple is a popular fair and attracts people from many surrounding areas.
As for civic amenities, KR Puram has a 100-bed government hospital, but the residents are not happy with the treatment and facilities offered. "There is nothing to crow about the facilities at the hospital. A lot has to be done to ensure proper medical facilities in place,'' said V Ravi, a resident of KR Puram.
Shortage of drinking water is the' main grouse. They claim water is being supplied to areas where the incumbent MLA's supporters reside. "We are yet to get Cauvery water. They are promising us to ensure Cauvery water supply after elections. We know that no politician will turn up after elections,'' said L Saroja, a housewife.
Meanwhile, Nandish Reddy is confident that he will win again because of the development work facilitated by him in the constituency. "I will win this election. I will continue to work for the development of this constituency,'' said Reddy.
Congress candidate Basavaraj is equally confident. He says his success in the election was a foregone conclusion. "I have enough money for survival. I want to develop KR Puram constituency as model constituency,'' says Basavaraj.