Youngsters from the West say that when it comes to opportunities for volunteering and short-term projects, Bangalore offers wonderful options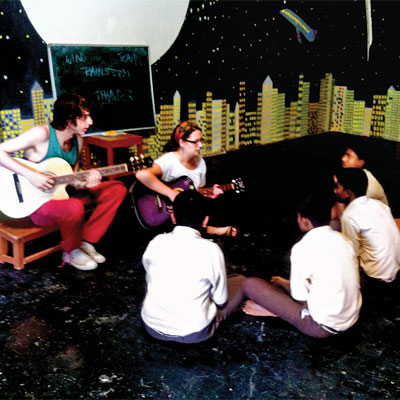 It is not only full-time studies for which Bangalore has been attracting students from across the world. Youngsters from the West are choosing to come to the Silicon Valley of India for short-term projects and internships too.
Take the case of Kerrie Smith, a 21-year-old British national who is staying in Bangalore for the past few weeks. She says it has been a learning experience for her.
"It has been a challenge introducing music to the children as many of them have never had a music lesson earlier, but it is extremely rewarding to see them quickly picking up what we are showing them and leave the lesson with a smile."
For some, it is the unique aspect of the opportunities in Bangalore that draws them in, such as 19-year-old James McGraw from England.
"It is unusual to find placements like this in other parts of the world. Bangalore offers some great volunteering opportunities for young people, which are hard to come by in other cities."
Maya Brown, 19, of Worcestershire (England), has discovered that volunteering at a local orphanage has given her a huge confidence boost. "Interacting with the children has definitely helped me find myself. My time in Bangalore has also helped to improve my understanding of how children in other cultures go about their day-to-day lives. It has been an eye-opening experience, seeing what some children have lived through… I would not have learnt these things staying in England."
Budding journalists Megan Oliver and Millie McLuskie, both 19, have already secured places in a university and are interning with a national daily in the city. For them, Bangalore is a place where they can enhance their CV credentials.
"It has been a unique and worthwhile experience working in a foreign establishment," commented McLuskie. Oliver added that the vibrant city "offers a lot to the younger population, especially shopping and a variety of places to eat. The location makes popular tourist destinations in South India such as Goa and Kerala easily accessible."
Questioned on the prospect of returning to build a career in Bangalore, all the young Brits appeared enthusiastic to return, stating that they have "loved their time in the city."
However, how are they coping with the heat of the city coming from the torrential rain of the UK? "It's been a struggle adapting to the climate here, but it is cooler than other Indian cities which is another perk of Bangalore," confessed Brown.