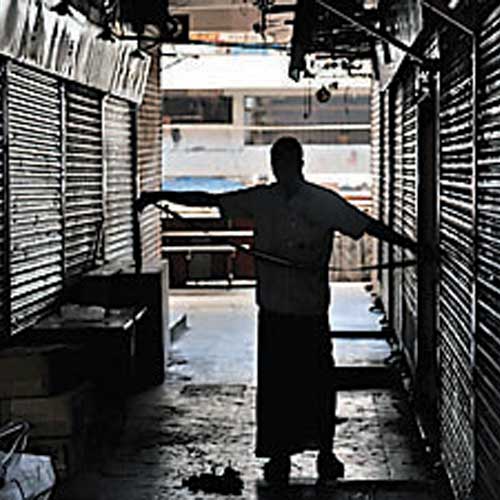 The Indian way of paying tribute to an important personality is well-established: declare a holiday for schools, colleges and government officials. This is what happened in the city, as the state government declared Wednesday as a state holiday as a mark of respect to Srikantadatta Narasimharaja Wadiyar, who passed away on Tuesday.
But it's not just educational institutions and government offices that observed a holiday. The bustling KR Market, popularly known as the City Market, remained shut as well, catching flower merchants offguard.
Hundreds of floriculturists and florists had to incur a huge loss due to the bandh announced by some people, including BS Satyanarayana, mayor, Bruhat Bangalore Mahanagara Palike (BBMP).
The flower merchants came to know about the death of Srikantadatta Narasimharaja Wadiyar only on Tuesday evening. "Many of us had no time to inform farmers not to send flowers since we got the news late. Most farmers had completed plucking and packing of flowers by evening itself,'' said Diwakar GM, president, KR Market Flower Merchants' Association.
Diwakar said shop owners dealing in groceries, vessels and other materials wouldn't be inconvenienced, but flower merchants can't afford to remain shuttered since flowers are perishable. "The loss is not much since it is not peak season for flower business. The loss would have been in lakhs if the market had been closed in February or March,'' he said.
To add to the woes, there was no power in the market. Many flower vendors were compelled to depend on candles or diesel generators to do business. "We wanted to remain closed from 8am to 1pm, but mayor Satyanarayana insisted us to extend it up to 6pm,'' said a florist on condition of anonymity.
There was not much crowd at the flower market making it difficult for the florists to dispose of the stock.