Wodeyar's nephews, Kantaraju and Varchas, are two probables to succeed the Maharaja.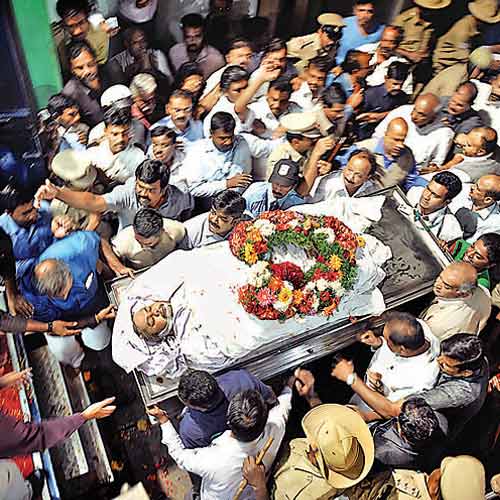 The royal city of Mysore is in a pensive mood over the prospective successor to royal scion Srikantadatta Narasimharaja Wodeyar. The court scholars would brain storm in a session of 'Manthana Goshti' to decide who would be the best person to fill the void, as Wodeyar did not have children.
According to sources in the family circle of Wodeyar, there are two probables in Kantaraju and Varchas, both sons of Gayatri Devi, the second elder sister of Wodeyar. However, the rites of succession will not happen until the Wodeyar's last rites are performed.
His mortal remains that arrived in Mysore on late Tuesday evening will be laid for public viewing at Gayatri Kalyana Mantapa in Amba Vilas palace precincts. The cremation has been slated to be held at 2.30pm at Manuvana in Nanjangud. A message has been sent to other royal families in the country, including the Jaipur royalty, who are expected to present during the cremation.
The final decision about the succession is to be taken by Pramoda Devi, the wife of the late Wodeyar. He had five sisters, of which only Gayatri Devi has sons. The elder son Kantaraju is likely to be the next scion, said the court scholars.
Family sources said it is an hour of deep grief for them and that things like choosing the successor and consecration in a royal scale does not arise at this point of time.
Meanwhile, the last rites of Wodeyar would be an elaborate affair with a group of purohits specially ordained with the rights of conducting the rites of the royal family members have left to the place of cremation, Manuvana, along with police officials. A copybook of the final rites and funeral rites will act as the guidebook for performing the ritual.