Polio victim provides shelter to disabled people, helps them be self-reliant.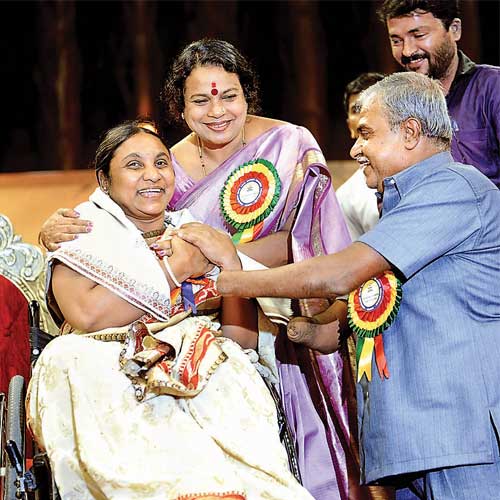 Rita Antony as a three-year-old never expected to become a beacon for physically-challenged people from rural areas. Rita became a polio victim at the age of three and completed PUC with her parents' support.
Now, Rita is one of the trustees of Alamba Charitable Trust, which was started in 2004 with three people. Presently, the trust provides shelter for around 60 physically-challenged people from various places across the state.
"Since 2004, we have provided training for 2,000 physically-challenged people and provided placement for 1,000 of them,'' said Rita.
Alamba Charitable Trust was one of the awardees at the World Disability Day function held at Kanteerava Indoor Stadium on Tuesday. Rita said the need of the hour was to have a short-stay home for physically-challenged people.
"There are some physically-challenged people who do not want to go to their parents due to various reasons. They feel more comfortable here than in their native places. They told me there is a discrimination and stigma in rural areas,'' she said.
With no government funds, the trust has to depend on the donors and well-wishers. At present, it is functioning from a rented building.
"We got a 10-room accommodation at Rs 35,000 rent per month. We have to vacate it after two years. I am confident the Almighty will solve our problems,'' she said.
Many of the girls, who had to depend on their parents, have now become self-reliant and are supporting their parents, thanks to trust.
"I am very happy to stay at Alamba Charitable Trust. I consider it my home. As of now, I am earning Rs 8,000 per month and sending some amount to my parents,'' said one of the inmates of the trust.
Many of the girls and boys are trained in data entry, cash management and pizza-making. "Three of the inmates make pizzas. One of them is from Kolar,'' says Rita with a pride.