Cable operators and citizens are at crosspurposes on the road to digitalisation.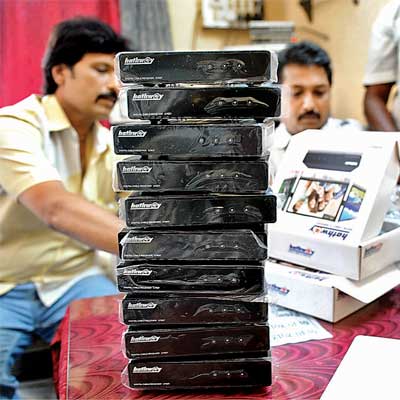 Cable operators and citizens are at crosspurposes on the road to digitalisation. With prices of set top boxes varying drastically and many operators losing customers because the latter can't afford the set top boxes, the state of affairs remained the same when the Karnataka high court earlier this month refused to let cable operators extend the deadline.
"I want to know why cable operators cite different prices for set top boxes, and also why they don't give us receipts. Many don't respond on the pretext that we should buy if we want to; they don't care. So, what happens to the poor who simply can't afford these boxes?" asks S Mukund, a concerned citizen. dna spoke to members of the Karnataka State Cable TV Operators Association (KSCTVOA) on many issues citizens are facing.
How much should the set top box cost?
According to Nagesh Kalvurgi of the KSCTVOA, the prices of set top boxes vary according to the model and the manufacturer, but should be in the range of Rs 1,200-1,500.
"We can't have a definitive price tag since there are different makes and brands, besides different types too. Moreover, many vendors are themselves importing set top boxes in the price range of Rs 1,800-2,000. For the same reason, we can't advertise a single price in the television ads either," he said.
Problems cable operators are facing
"There is a reason cable operators are not issuing receipts. Since we import those at around Rs 2,000, a receipt would mean that we want to charge as much. Right now, we are calling them activation charges and taking Rs 1,200-1,500," Kalvurgi said.
Ratan Kumar, a cable operator, said another reason for the difference in prices is the way the set top boxes are being installed. "We often have to take up additional wiring because of which the cost can go up by Rs 100. Besides, we need a profit margin too," he said.

Where are these boxes coming from?
According to cable operators, most set top boxes are being imported. Kumar said he gets his from China.
How many are opting for digitalisation?
"Many customers have told us that they cannot afford to pay even Rs 1,200 for the box, and we can't give it for free either. They can keep watching TV till this digitalisation happens. After that, it will only be blank screens for them," said Kumar, who has installed 600-700 units in his area.

Whom should one contact for support?
As of now, that would be your cable operator. RR Venkatesh, an operator, said only cable operators would be able to take the device to the right place to get them fixed (read, repaired).
"Sometimes channels just freeze on the screen. We can fix that. In case there is a problem with the unit itself, we know where to get it repaired," said Venkatesh,

What do operators really want?
Kalvurgi said cable operators want the government to extend the digitalisation deadline till price points for set top boxes are fixed.