Ishita Malaviya's surfing club is attracting youth to this adventure sport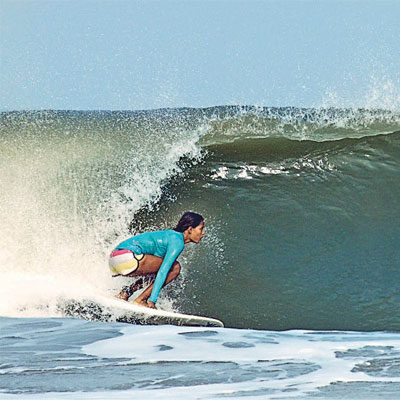 A young woman is leading a mini revolution in adventure sports on the sylvan beaches of this fishermen's town, 60 km from Mangalore, which has become a destination for surfing enthusiasts.
Meet Ishita Malaviya, an adventure buff, who has given youth another reason to visit the west coast of Karnataka. Ishita who founded 'Shaka Surf club' along with her partner Tushar pathiyan, is not just making waves, but literally sweeping the local youth off their feet.
Ishita and Tushar started surfing with the Surfing Swamis of Mulky estuary about 30 kilometers from Malpe. Their residential surfing club is situated on the most scenic part of the beach on Kodi Bengre.
"This part of the sea has limited surf, But just what was needed to start a surfing school. Most of the people here live by the sea, but never considered playing with it. Most of them just stroll on the beach and only a few even get into the sea ankle deep. Their fear was genuine. It appears that a few drowning have been reported here," Ishita told dna.
"But after the advent of our club, things have improved, and even the local urchins have started taking to the sea on the board. These youths help us spread awareness about the keeping the beach clean," she says.
Surely, the Kodi Bengre (a naturally formed large sand pit) adjacent to the beach is one of cleanest parts of the Malpe-Vadbandeshwara shore, about 8 kilometers from international educational hub of Manipal.
"But all that happened only after a many a hard day, when we had no money to buy surfboards which do not come cheap, and there were no used boards available in this part of the country as surfing was unheard of," she says.
Ishita studied communication in Manipal Institute of Communication while her partner completed his architecture engineering from Manipal Institute of Technology (MIT).
"Our road to this situation started so humbly that we used to watch surfing only on YouTube and try to learn it. But four years ago, we came in contact with the Surfing Swamis of Mulky, who had set up a surfing Ashram there. As students, we could afford only few lessons, but we formed a group of students from Manipal and Mangalore and took them to the Ashram to learn surfing and in the bargain we to got some free lessons," Ishita reminisces.
Now her club has students from Mangalore, Mumbai and Chennai, Panaji and even landlocked cities like Delhi, Bangalore and Hyderabad during surfing season.
"We had no girl students for the first two years, but now we have two local girls learning surfing. Tejaswini, a local student is pretty good."
In the beginning, Ishita and Tushar got a little help from the locals, but soon they learnt to live with them and honed their skills in the local language and even mixed freely with them. Many local youth here do use our facility, for which we do not charge," said Tushar.
Shaka surfing club has a philosophy, it aims at being inclusive.
"We intend to make surfing locally available without getting into the high-fi and high-value patronage. The training and surfing session should be available to most of us. There is a cost involved, but we do not want it to be unaffordable. This is why we have made arrangements for surfing students to stay on the beach using tents and hammocks. A bonfire at night and simple food are some of the features of the club. Local fishermen youth have also supported the club.
"Both Ishita and Tushar are very friendly, and they trained a few youths from the fishermen community, and under their influence a new wave of modernity is sweeping our villages,"says Suresh Bengre, a local fishermen leader.