An arboreal haven in offing.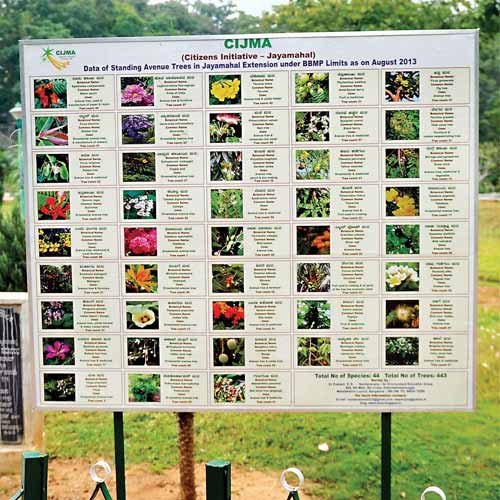 The clean and neat roads and footpaths in Jayamahal Extension has much to do with the residents' participation in keeping the area free of debris and garbage.
Community Initiative Jayamahal Area (CIJMA), the citizens' group that has been spearheading the cleanliness drive in the area, has taken the next step and planted 50 avenue tree saplings, besides ensuring a scientific survey of avenue trees in their extension is conducted.
The tree survey was conducted by Dr SR Prakash of Nandanavana, an environment education group. The survey provided the residents with extensive data comprising botanical and common names of trees and also benefits accruing from the trees.
"We were informed by Dr Prakash that other than Lalbagh, our area stands first in recording the tree count. We have put up boards indicating the name of the tree and its benefits at various locations,'' said Prema Kakade, one of the volunteers of CIJMA.
Speaking with dna, Dr Prakash said he the census of trees took just two months. "We visited the area five times to identify species in the area. The advantages of tree census are: It provides information on the standing count of the avenue trees in the area; what are the economic uses of those trees and how tree canopy influences productivity in an ecosystem,'' Dr Prakash said.
Radhika Swaminatha, a CIJMA volunteer, said efforts are being made to clean the footpaths at cross roads. "We took up intensive cleaning of roads with the help of pourakarmikas on Tuesday and Thursday. We have covered 26 roads in the area. Now, the BBMP authorities have to take up the responsibility to continue the clean up initiative to keep the area clean,'' said Radhika.
However, the authorities concerned have to match the citizens' efforts, to make Jayamahal Extension free from garbage and debris. For example, stone slabs and other construction material piled up in front of the residence of the minister for social welfare have to be removed, as also the concrete around a few trees to facilitate percolation pits.
The Jayamahal initiative began with around 100 residents, including children, gathering on the 1st Main of Jayamahal Extension on May 25 to participate in a clean-up drive. The residents contributed their savings—Rs 500 each—to CIJMA for its work.