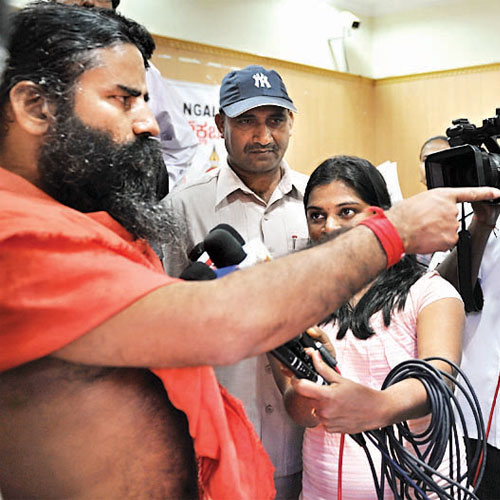 Yoga proponent Baba Ramdev said that regardless of the corruption charges BS Yeddyurappa faces, the BJP top brass did the right thing by choosing to welcome him back to the party.
Speaking with mediapersons in Bangalore on Saturday, he said even though the former chief minister was accused of a few wrongdoings, the BJP needed him to take on the Congress, which is far more corrupt. He said the BJP's top brass boasts of clean leaders, unlike the Congress. He conceded, though, that the BJP's lower rung has corrupt elements.
Ramdev reiterated that for the next year's Lok Sabha polls, he would throw his weight behind the BJP's prime minister-designate, Narendra Modi. He said he would start 'Vote for Modi, Vote for Nation' campaign across the country. Eulogising the Gujarat chief minister, he said he would organise a huge gathering for Modi on March 14. Elaborating, he said a door-to-door campaign would start with the involvement of 10 crore volunteers.
Ramdev said Modi can rid the country of corruption and bring back country's black money stashed in foreign banks. He spewed venom on the Congress, saying earlier its leaders would indulge in corruption behind closed doors, but now they were doing it brazenly in the open. He summarily dismissed Congress scion Rahul Gandhi as a challenge to Modi. He said his wish is that the Congress wins no more than 50 seats in the Lok Sabha elections.
The yoga teacher underlined that he has nothing to do with the RSS or the BJP, adding that he won't launch any political party. He said he has pledged his allegiance to Modi because of the promise the Gujarat CM holds for the country.
On a different note, Ramdev criticised Delhi's new chief minister Arvind Kejriwal for parting ways with his mentor Anna Hazare. He wished the best for the new government in the country's capital.