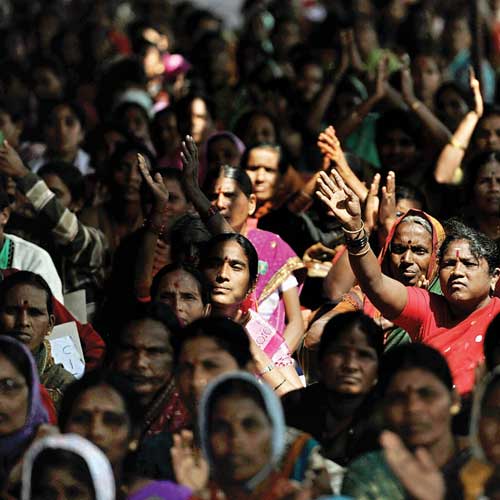 The mid-day meal scheme in schools across the state has been thrown into disarray, with thousands of women workers part of the mid-day meal scheme pouring into the city to join an indefinite strike that began on Monday.
The women are demanding an increase of pay from Rs1,100-1,000 to Rs3,000, and a reversal of privatisation of the mid-day meal scheme that the government has initiated. Thousands of them, accompanied by their children, are camping out in the open at the Freedom Park, braving the December cold.
"These people get only Rs38 per day. The government has been exploiting them by paying a meager honorarium for working from morning to evening,'' said Malini Mestha, general secretary, Karnataka Rajya Akshara Dasoha Naukarara Sangha.
Cooks and head-cooks under the programme are being paid Rs1,000 and Rs1,100 per month. They get an additional Rs100 every month for providing milk to schoolchildren thrice a week under the Ksheera Bhagya scheme that was launched a few months ago.
Those wages are grossly violative of the Karnataka minimum wages act, and even far lesser than the daily wages paid under the MGNREGS programme, which is Rs 174 a day and far below the wages of anganwadi workers and helpers.
Malini said that around 40,000 women have been rendered unemployed due to privatisation of the mid-day meal programme.
"We demand an end to privatisation of the mid-day meal programme. We also demand that the government increase the honorarium from Rs38 to Rs170 per day," Malini said.
"We are disappointed with minister for primary and secondary education Kimmane Ratnakar's statement ruling out hike in honorarium,'' she said.