Footpath leading to his house relaid 2 months ago; rest of locality vying for upkeep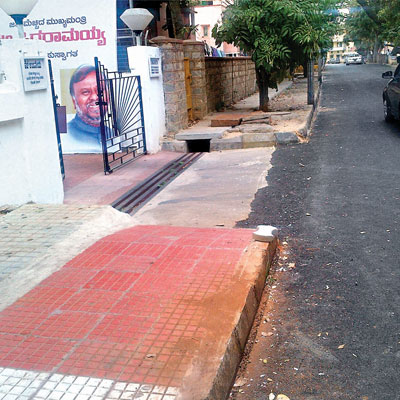 Members of Community Initiative Jayamahal Area (CIJMA) are an unhappy lot owing to the discriminatory attitude of the BBMP authorities towards their grievances.
They said the BBMP authorities are ever-willing to go the extra mile in providing better amenities to streets where politicians, celebrities and other famous people reside, and are least bothered when it comes to other areas.
Withering plants and garbage piling up on the 1st main road is an example for the negligence of the BBMP. The CIJMA members took an initiative to clear the black spot on the 1st main road in May last year. Incidentally, the then BBMP commissioner Siddaiah had attended the programme that witnessed planting of saplings at black spots after cleaning them up. Siddaiah had even appreciated the CIJMA's initiative to keep the area clean.
Subsequently, the CIJMA appointed a person for watering the saplings, but had withdraw the person later as it was unable to pay the wages.
"We have requested the BBMP to depute one of its employees for watering the saplings and deweed the area, but we are yet to hear from them," said Prema Kakade, a member of CIJMA.
Ironically, the BBMP authorities have not only asphalted the 2nd main road but also developed the footpath up to social welfare minister H Anjaneya's residence. According to Gowri Acharya, a member of CIJMA, there was no need for asphalting the 2nd Main Road. "It was one of the best roads in the area. We have been requesting the BBMP authorities to asphalt the other roads in the area that need immediate attention, but the authorities concerned are yet to respond to our request even after many months," said Gowri Acharya.
Interestingly, the BBMP authorities have developed the footpath only up to Anjaneya's residence and have conveniently ignored the rest of the footpath on the same stretch where income tax and central excise staff quarters` are situated.
"Recently, chairman of standing committee on finance and taxation MS Shivaprasad presented a surplus budget in the BBMP council for the year 2014-15. The BBMP authorities improved only half of the footpath and forgot about the rest beyond the minister's official residence. I think it is not due to lack of funds but sheer negligence," said a resident on condition of anonymity.
Meanwhile, Jayamahal ward corporator MK Gunasekhar explained that development of the footpath and asphalting of the road was done on the 2nd main road as some politicians and celebrities stay there. "We will develop the remaining portion of the footpath on the 2nd main road shortly. The BBMP has already allocated funds for this purpose," Gunasekhar said.