Assured Rs 20 lakh to dead contractor's family, only to backtrack later.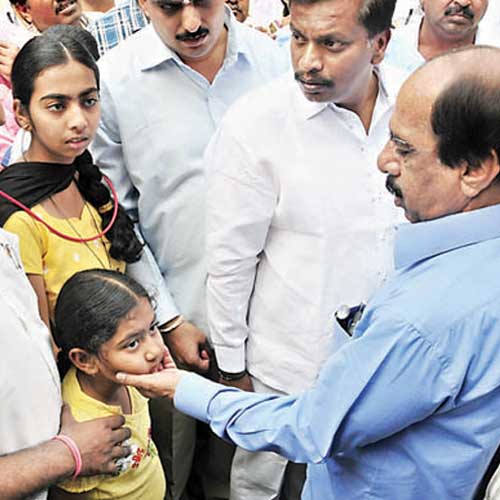 More than two weeks have passed since the mayor declared Rs 20 lakh compensation for the family of a BBMP contractor (who ended his life owing to non-payment of bills), but the family has not yet received a single paisa.
Two weeks down the line, Contractor SR Girish's family has received neither the compensation nor the money the Palike owed Girish for projects executed.
His wife Bhagya told dna they are finding it difficult to make both ends meet. Pointing out that even their house has been mortgaged, she said she expects the mayor to honour his assurance.
Girish's elder daughter Anisha G, studying PUC, too is mindful of the mayor's promise. Recalling his assurance, she said the family has to arrange for Rs 1,250 a month to pay for the school fees of her sister.
BT Hanumantharaju, secretary of the BBMP Contractors' Association, said they are shocked and upset over the continuing delay on the part of the Palike.
The mayor has this to say in his defence: While declaring the compensation, he did not know that money from the mayor's fund cannot be allocated for the purpose. He said he wants to help Girish's family and would meet the BBMP commissioner and contractors' association on Monday to discuss the issue.
A contractor, on the condition of anonymity, said the BBMP should release the money it owes Girish at the earliest as Bhagya and her daughters are in urgent need of money.

As it happened
The suicide: SR Girish, who took contracts of BBMP projects, committed suicide on November 25 as the Palike did not clear his bills (reportedly, to the tune of Rs 80 lakh). He had raised personal loans to raise money for the projects.
Mayor's response: Mayor BS Satyanarayana announced a compensation of Rs 20 lakh for the contractor's family.
Mayor's action: Nil. He ignited the hope of financial aid in the family members, who are awaiting payment.
Mayor's excuse: He says he announced the compensation in a hurry, only to realise later that he does not have the authority to do so.