80th All-India Kannada Sahitya Sammelana starts on January 7.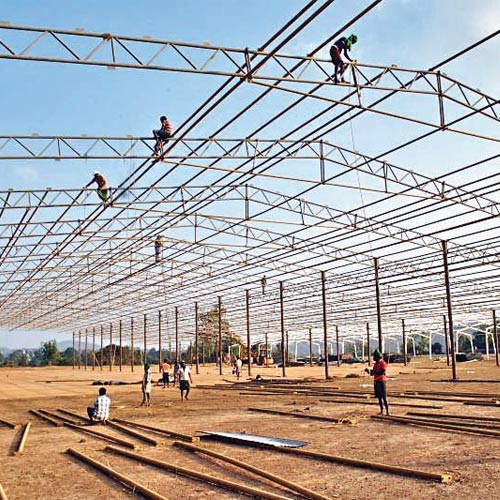 This hill station, under the grip of a typical winter, is getting ready to host the 80th All-India Kannada Sahitya Sammelana after 29 years.
It was last held here in 1984. The three-day Madikeri Sammelana will open on 7 January. Despite the shortcomings in logistics, the city is making all-out effort to make it a success. Huge pandals were being erected at the Field Marshal Cariappa College grounds, which will accommodate more than 10,000 people at a time. The expected inflow of Kannada literature enthusiasts has been pegged at 80,000 people. Out of them, 8,000 are registered delegates from Karnataka and some from states like Maharashtra, Kerala, Andhra Pradesh and Tamil Nadu.
"One of the concerns we are tackling is the accommodation of the delegates. We have booked various schools and colleges, which will host about 2,000 delegates. We have also booked 50% of the homestays and requested the resorts to accommodate a few VVIP delegates," deputy commissioner of Kodagu Anurag Tiwari told dna.
The second challenge is handling traffic. "We are expecting more than 5,000 vehicles to come to Madikeri during the three days of the sammelana in addition to the special buses coming from all over the state. To facilitate smooth movement of traffic, we have made several roads of the city one-way, especially the two-kilometre stretch of road leading to the Sammelana site," additional deputy commissioner HC Prasanna told dna.
One of the issues likely to crop up during the sammelan is the separate political set up for Kodagu. The activists who have been fighting for an autonomous region or hill council for Madikeri might press for a resolution in the sammelana, according to the leader of the activists, U Nachappa Codava.
Prof N Karibasappa, in charge of the book exhibition, said the Sahitya Sammelana will have a record number of book stalls. He said they have registration from 332 publishers and sellers from all over the state and 50 other commercial book and Kannada related stalls.
President of the Kodagu district Kannada Sahitya Parishat said: "The official business committee has chalked out elaborate sessions with an eye for quality and meaningful deliberations. Dr Na D'Souza, president of the 80th Akhila Bharata Kannada Sahitya Sammelana, will participate in a special dialogue with the upcoming Kannada poets and writers.
"A special session on just the problems faced by Kodagu district—which includes local Kodava writers and intellectuals—will present papers pertaining to the theme on problems of Kodagu, with particular emphasis on challenges of modernity on Kodagu, problems of western ghats and impact on Kodagu and the challenges faced by the original inhabitants of Kodagu."