Bengaluru Int'l Airport is now Kempegowda International Airport.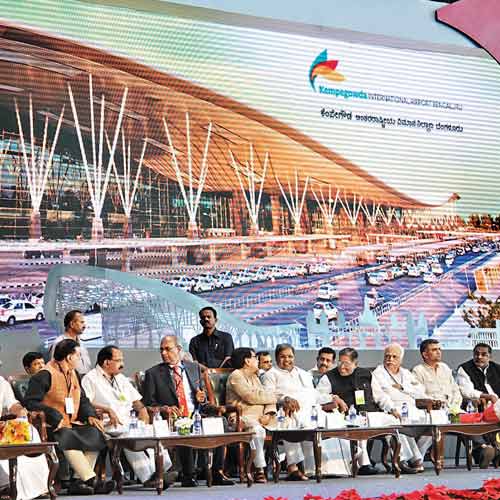 The Bengaluru International Airport (BIA) was renamed Kempegowda International Airport Bengaluru on Saturday. Chief minister Siddaramaiah said renaming the airport after Kempegowda is a befitting tribute to the founder of Bangalore.
Commissioned in May 2008, the operators of the airport had named the airport as BIA to keep the focus on the destination (Bangalore). However, over the years, many organisations demanded that the airport be named after a prominent personality of the state.
Apart from Kempegowda, the other names suggested by the organisations included former ruler of Srirangapatana Tipu Sultan whose birth place happens to be Devanahalli, social reformer Basaveshwara and former Mysore Dewan Sir M Visvesvaraya.
The state government zeroed in on the name of Kempegowda and proposed before the Civil Aviation Ministry to name the airport, which is India's first Greenfield airport, after the city's founding father.
In July, the Union cabinet gave an approval for the proposal.
On the occasion, Siddaramaiah asked the airport authorities to install a statue of Kempegowda in front of the airport. Also on Saturday, civil aviation minister Ajit Singh inaugurated its expanded Terminal 1A, which has been elevated in design, exteriors, facilities and infrastructure.
The T1A has been carved out by expanding both sides of the existing terminal. The T1A, which has been expanded at a cost of Rs1,500 crore, has a total area of 15 lakh square feet and can handle two crore passengers per annum. The earlier terminal could handle only 1.1 crore passengers per annum.
On the occasion, BIAL also announced that it is charting future plans, which includes building a second terminal and an additional runway as the newly expanded terminal is expected to reach its capacity in the next five years.
Also on the offing is a real estate development plan, which BIAL plans to formulate in the next couple of years. "We have identified areas where we will develop real estate, which will have all aspects of an airport city. If you see any airport in the world, once an airport is located on one part of the city, the whole city development moves towards the airport, which is a natural phenomenon. We are also seeing this in Bangalore. There is a lot of development near the airport as there is a lot of land," said GV Sanjay Reddy, managing director, BIAL.
He said that the BIAL was awaiting certain government approvals before taking up the real estate development plan.