Controversial seer reading palms of inmates and giving predictions about fate of their cases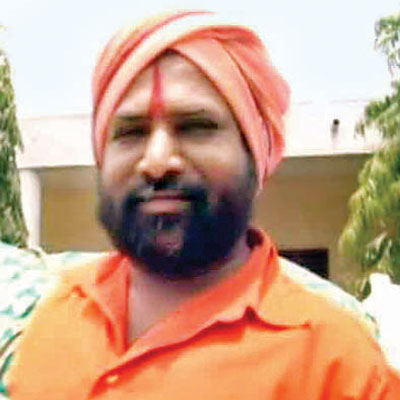 Inmates of Hindalga jail now learn the fate of their cases even without going to the court or contacting their lawyers. All this for as low as Rs 5. For, they have found an astrologer amidst them.
Guess who is that? The new entrant and controversial seer Appayyaswami who was recently arrested for keeping a seven-year-old girl in an underground chamber for 21 days for the purpose of a bizarre puja.
Assuming the role of astrologer, Sadashiv alias Appayyaswami has been reading the palms of the inmates and making predictions about the fate of their cases and their release. He is also charging fees of Rs5, 10, 20 for this service, sources in the jail said.
Through his speech, Appayyaswami and his associate Gurupadgouda Patil have influenced the inmates, who have now become their followers. "Many of us fall at his feet in the mornings and evenings and seek his blessings," some inmates told the media.
It does not end here. The controversial seer seems to wield influence among the men in khaki. The police personnel deployed at his mutt in Zanjarwad village, are taking care of the cattle there. They feed the five cows, two oxen and a horse at the mutt. The mutt reportedly was built by Appayyaswami himself in 2003-04.
When TV channels reported the seer's acts, DIG (Prison) Veerabhadraswamy rushed to the jail and ordered Appayyaswami to stop playing tricks on the inmates. He also insisted other inmates to not listen to the seer or follow him.
The seer and his associate were arrested on Wednesday while he was planning to set afire the seven-year-old girl for the 'welfare of the world'. The police rushed to the spot after news about his intentions leaked.
Appayyaswami, overcome with an intense desire 'to do good for the world', reportedly 'adopted' the girl last year. When the news of alleged sexual harassment started doing the rounds and Belgaum deputy commissioner summoned him in June last year, the seer made jaws drop by exposing himself in front of the media and the public outside the DC office, claiming he was impotent.
Appayyaswami, who is known to have not received religious education from any authorised Institution, is reportedly facing several police cases since 2003. According to villagers, he was posing as a Lingayat swamiji, when in fact, he comes a Jain family.