Bhardwaj lashes out against culture of sycophancy in dept.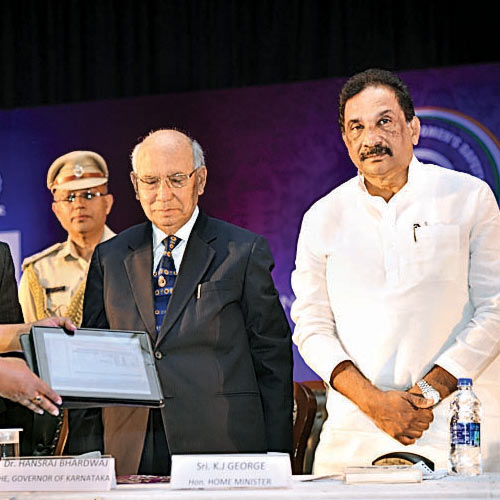 Governor HR Bhardwaj on Thursday expressed his concern over sycophants being promoted in the police department while honest and hardworking officials are neglected.
Speaking at the national conference on women's safety and security in Bangalore on Thursday, Bhardwaj also said it was the duty of police to ensure safety of women and that the department has to recruit more women officials to prevent atrocities against the fairer sex.
"The government should enact a special law to deal with those who indulge in atrocities against women, and establish special courts to deal with the same," he said.
"The existing legal aid system is not up to the mark. We have to strengthen it for the benefit of women. It would be better to have more women lawyers who can understand the problems of women and fight for them," he added.
Home minister lauds cops
Condemning the recent rape incident in Manipal, home minister KJ George said: "I want to congratulate the police for nabbing the accused in the rape case," minister George said.
He also said the state government has taken measures to establish 10 fast track courts for trying cases related to atrocities against women. President of All India Women Congress, Shobha Oza, said people talk of empowering women, but there is no security for them in the society. "Around 90% of accused in rape cases are persons known to the victims. We need to change the mindset of people. Youth of this country should stand up against atrocities towards women. The need of the hour is to revisit the Juvenile Law in the country. As per the existing law, youth below the age of 18 years can do anything and get away with minimum punishment," Shobha said.
Portal for women
In an attempt to make it easier for women to seek help from the police department, government agencies and NGOs, governor HR Bhardwaj launched a portal — Safe India for Women — on Thursday.
Women who are subject to atrocities at workplace, public place or even at home can register their complaints in the portal, Bhardwaj said. The police department and government officials will take the necessary action on the accused, he added.
The URL to the portal is www.safeindiaforwomen.org.