Carmaker sets up IT centre in Whitefield, its largest outside headquarters.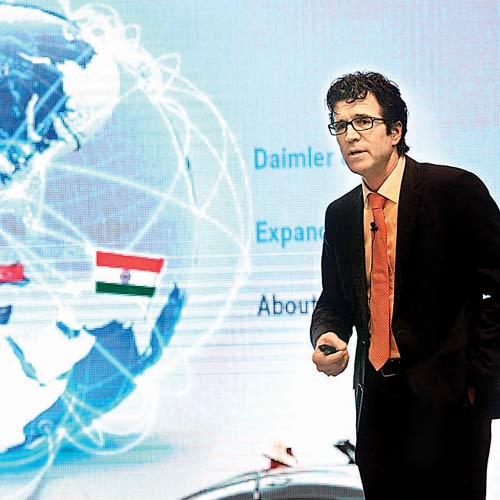 Carmaker Daimler has opened an IT services centre in the city, which is its biggest outside of its headquarters back home.
Located at the German giant's research and development centre at Whitefield, it is called the Global Service Centre. It will be focused on SAP and non-SAP system rollouts, including IT engineering services and IT infrastructure services.
The centre will be based at Whitefield, at the Mercedes-Benz Research and Development Centre India (MBRDI), which was established in 1996. Daimler has other IT services centres in Turkey and US, apart from Germany.
Jens Cattarius, MD and CEO, MBRDI, says the decision to locate the centre in Bangalore was based on the availability of educated and skilled IT workforce. "India is an important growth market for Daimler. And Bangalore is the IT hub."
Daimler plans to hire 800 IT professionals for the new centre by 2015. It currently has about 1300 employees at MBRDI.
"The headcount will grow at a quick pace going ahead. There might be more hirings in Bangalore," says Cattarius.
Other global corporations like Siemens, Intel, Bosch, Philips etc also have their IT sourcing centres in Bangalore.
IT services is a key component for the carmaker. Michael Gorriz, chief information offer, Daimler AG, says 70% of buyers of Mercedes first visit the web to gain insights, rather than dealers.
"The new centre will be crucial for Daimler IT in the future. It will take significant roles in the restructuring of SAP application development and provision, as well as optimising the roll-out processes," says Gorriz, adding that 70% of the SAP activities globally will take place in the new centre in India, and the one in Turkey.
"India will support the English-speaking regions, while Turkey will be responsible for the German speaking countries," says Gorriz.