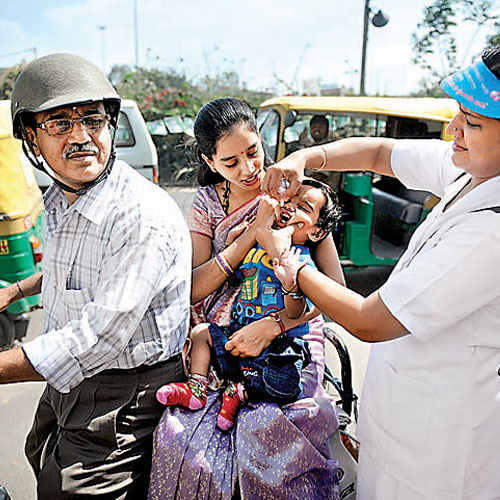 The first phase of the national pulse polio campaign for the year 2014 started in the state on Sunday, even as the World Health Organization (WHO) recently declared India polio free. No new cases of polio have been reported in Karnataka since 2004, and the authorities are trying to put their best effort to keep the children in the state safe from the debilitating condition.
On Sunday, over 83.56% of children below the age of five years were immunised in Bruhat Bengaluru Mahanagara Palike (BBMP) area. The target this year is to immunise 6,50,592 children within BBMP area. On Sunday, the volunteers administered the drops to 5,43,673 children. 2,094 polio booths have been setup and 8,376 volunteers deployed for the drive. Over the next two days, the volunteers will be moving door-to-door, administering the vaccination and ensuring that not a single child is left out.
Meanwhile, health minister UT Khadar formally inaugurated the pulse polio drive in Bangalore at HSIS Goushia Hospital by administering polio drop to few children. Khadar drove the model bike ambulance, which the state health and family welfare department is likely to launch in the state soon, from his residence to the hospital.
He said the state is looking at full eradication of polio and that people should take precautionary measures when they visit polio endemic countries. The minister also lauded the efforts made by the Rotary Club and various other NGOs towards polio eradication and awareness in the state.