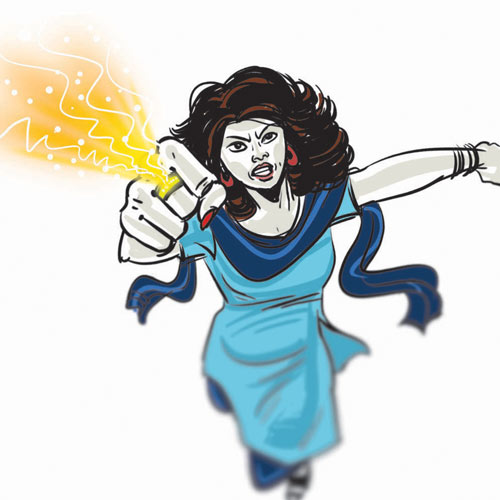 The increasing incidence of attacks against women has goaded a city pharmacist to develop a self-defence device for women, which is in the form of a ring that can be worn on a finger.
The silver ring, says Imran Khan, managing trustee for Save My Sister Charitable Trust, has an injection needle and can shoot into the attacker 2 ml of capsaicin, a chemical compound that stimulates chemoreceptor nerve endings in the skin, especially the mucous membranes, disabling the assailant.
Capsaicin is four times hotter than Bhut Jolokia, which till last year held the world record for the hottest chilli pepper in the world.
The ring developed by Khan contains a micro tank, a micro needle, a micro pump and an RFID tag on top side, along with a dual lock mechanism. The micro tank stores capsaicin, while the micro pump pumps or injects the chemical into the body of the attacker and micro needle helps in penetration. The ring has been designed in such a way that nobody can tamper or break the device.
To use the device, all the user needs to do is to unlock two locking mechanisms and ensure that she pricks the attacker with the ring.
The capsaicin will disable the attacker who will feel the extreme burning sensation caused by the chemical.
The ring can be used against five assailants at a time. Khan is in touch with jewellers to design the ring, which is likely to cost in the vicinity of Rs1,999. A refill of the ring's tank is likely to cost Rs1,000, and Khan hopes to bring down the price if the volume of the orders increases.
But Khan is a realist. He believes that a mere ring cannot stop crimes against women and that there is a need for campaign against attacks on women. Hence, he has launched a campaign - Save My Sister - and a trust to carry on the campaign, which has the ambitious aim of providing free legal service across 6,000 taluks of the country.
"A uniform helpline number across India can be the first step in this direction. Our sisters need to save this number on speed dial system on their mobile. Even with a missed call, the software can intimate the nearby police station so that police should meet emergency within 30 minutes," Khan says.
Any woman in distress anywhere in the country can call Save My Sister helpline number – 080-64500112.