Lounge in Marathahalli gives an "adda" for bikers to congregate, plan rides, discuss technicalities, and hone their riding skills.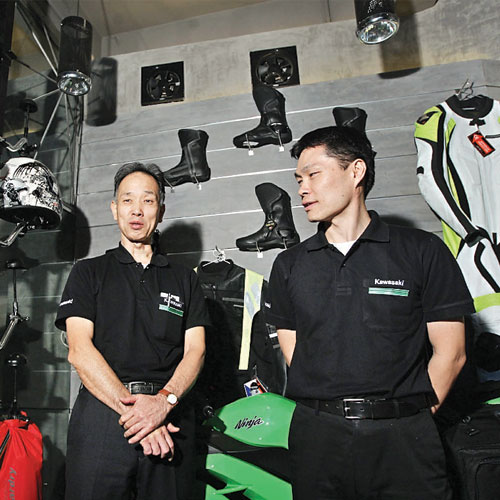 With biking catching up in a big way in Bangalore, bikers in the city are often left in the lurch when it comes to places to hang out and discuss about their motorcycles and plan their rides. However, now it appears like they have finally got an "adda" to call their own. And it is not some quaint corner in a mechanic's shop.
A swanky lounge ready to host biking groups, the "adda" comes alive with a screen showcasing motorsports, coupled with a unit selling everything from riding and safety gear to technicians ready to explain intricate details of different bikes.
Called 6000 Miles to Isle of Man, the lounge is expected to be the ultimate place for all bikers to congregate, debate and discuss, plan biking tours, get details on technicalities, and hone their riding skills.
"The idea is mainly to get bikers to bond with each other, and get to know their bikes better," says Pushpchand Chordia, CEO, Khivraj Motors.
He says bikers in India surf the net, catch up with like minded people and plan rides together.
"Instead of hanging out in some cafe or restaurant, bikers can come to this biking lounge, which is designed just for them," says Chordia.
Veteran biker Jaidas Menon, who runs Motorsport Inc, says, in the past, bikers would sit in workshops or mechanic shops, and discuss and plan things.
"A lounge is a nice concept as bikers can not only just relax with their friends, but also buy riding gear, understand their bikes, and upgrade their skills," says Menon.
The lounge, located in Marathahalli, will also hold courses for riders, apart from having technicians who will encourage bikers to better understand their bikes, and learn to handle everything from tyres to suspension.
Moreover, the lounge also intends to screen movies focused on biking like Riding Solo on Top of the World, and Once Crazy Ride.
"We will also get the director of these films to come and interact with bikers, and brief them on what it takes to ride in places like Arunachal Pradesh and Ladakh," says Anil Kumar S from Apex Riding Academy.
Kumar adds that the lounge will also organise bike rides to nearby places like Coorg, Mysore, Mangalore on a monthly and bi-monthly basis.
Khivraj Motors, along with India Kawasaki Motors, is planning to open four more such lounges in Rajajinagar, Central, South and North Bangalore.