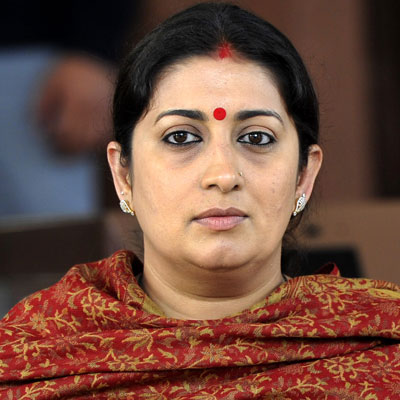 One of Smriti Irani's first moves as the newly appointed Human Resource Development (HRD) Minister is to introduce ancient Hindu texts in the schooling curriculum. The move is deemed controversial by some, objecting to the selective inclusion of the history of certain communities, termed as the "saffronisation of education." However, the larger problem with this move is that it perpetuates the unhealthy obsession with textbooks and detracts from numerous alternatives that can truly instil a sense of history in Indians.
As HRD Minister, Irani is tasked to ensure that government initiatives facilitate not just employable citizens, but foster better-informed and more responsible citizens. Instilling a healthy sense of (and pride in our) history is one important step towards this goal. In fact the core of India's National Curricular Framework (NCF), which lays out the overarching framework for syllabi making in India, states that a well-rounded curriculum should be designed to promote values such as India's common cultural heritage. From this perspective, Irani's move to include ancient Indian texts in school syllabi is simply within the existing ambit of India's education policy. But the narrow interpretation of cultural values as being solely synonymous with ancient texts is problematic. To faithfully instil cultural values in children, there are several innovative and more effective methods that the new minister can implement, while thinking 'outside the textbook.' We highlight three such initiatives as examples.
Diversity Education and Dialogue on Social Issues
Given our society's susceptibility to communal violence, diversity education, which includes history and current topics of distinct communities and regions, would be beneficial for social harmony, which is vital for economic development. For example, the Northeast region is largely excluded in Indian history textbooks. In the last year, Northeastern communities faced rampant discrimination and racial violence in prominent Indian metropolitans, such as Delhi and Bangalore. Mass social intimidation promising violence against the community led to over 25,000 Northeastern Indians fleeing Bangalore in August 2012 (TOI). This was the result of an 'atmosphere of fear and mistrust.' Such incidents reflect poorly on us as citizens, and on the State as protector. In order for India to develop economically, all members of our society should feel safe and be free to work in any part of our country.
Students can also benefit from more dialogue on social issues that continue to fracture our society, such as gender, caste, and sexuality. While sexually explicit music videos populate our TV entertainment, and the media discusses the litany of revolting rapes across the country, talking about sex remains taboo. Irani must take the bold step of institutionalizing informed sex education for teenagers as part and parcel of initiatives to resolve issues of women security. Raising-awareness at an early stage can have far-reaching effects. A more sensitized population is a sustainable solution to the immediate women security issues. The landmark report by the Justice Verma Committee, which was written in the aftermath of Nirbhaya case, highlights the instrumental role that education reform can play in changing mindsets and overcoming gender biases. It goes as far to state that the school curriculum should be revised to include a "Social Science- Practical Applications" subject. The HRD Ministry should take actionable steps to ensure timely implementation of these recommendations.
Preserve and Restore Pride in Our Heritage Sites
The concept of 'practical application' remains the missing link in several aspects of India's education system. There are more tenable means through which students can appreciate and experience Indian history, rather than unilaterally including selective aspects of Indian history in schools. For one, the government should prioritize the preservation of significant historical sites and ensure their upkeep. Visiting these sites will naturally have a more memorable impact on students than reading about them in a textbook. Field visits to important cultural and religious sites can be incorporated into the curriculum to encourage a well-rounded understanding of India's rich heritage. Instilling a sense of pride about our culture heritage will inculcate a sense of ownership and duty towards preserving these sites. Unfortunately, many historical sites are littered and defaced by pen markings. The Hauz Khas fort in Delhi is one such example. Heritage walks are another popular initiative that individuals and organizations are undertaking. Historian Sohail Hashmi organizes several such initiatives in and around Delhi for citizens, while the Indian National Trust for Art and Cultural Heritage (INTACH) has been instrumental in ensuring the maintenance of sites as well as overall heritage education. There are efforts to include such activities in the school curriculum, but these remain peripheral to the core curriculum, which continues to emphasise rote and textbook learning, which can do little to inculcate a sense of cultural awareness and national pride among students.
Political parties flocked to social media leading up to the Lok Sabha 2014 elections in order to connect with younger, mostly urban voters. Social media platforms could be used effectively to convey the wealth of India's heritage in a visually appealing and digestible form. @HistoryInPics is a popular Twitter handle, with almost 15.5 lakh followers, that lives up to its name: it posts historical pictures along with brief trivia. While an Indian variant does exist, @IndiaHistorypic has fewer than 37,000 followers. This simple cost-effective initiative taps into entrenched habits to bring us closer to history in the course of our daily lives. @HistoryInPics is run by two teenagers; the new HRD Minister can lead similar initiatives.
Encourage Students To Appreciate the Personal Impact of Historical Events
Indian children grow up surrounded by numerous relatives because of our family-oriented culture. Building upon this base, our teachers can introduce personalized, creative assignments in which a student submits a mini-biography of one relative every month. Such open-ended assignments will not only enhance writing skills, creative and independent thinking, but also make historical events more relatable. Students will hopefully appreciate how historical events impacted their families. This is ever more pressing given the ageing, ailing generation that lived through partition.
Can the New HRD Minister Think Outside the Textbook?
A strong foundation in history and cultural values is essential to fostering better citizens of tomorrow. However, the discussion over whether Irani's move to introduce 'Hindu' texts in school syllabi is propagandist or prejudiced is ultimately irrelevant as the move itself is mired in a paradigm that our education system desperately needs to move out of. To implement reforms that can instil a genuine sense of history in children, Irani needs to not only think beyond 'Ancient' and 'Hindu,' but outside the textbook.
Digant Raj Kapoor holds an M.Phil. in International Relations from Cambridge, where he was a Cambridge Commonwealth Trust Scholar. He is a Humanity in Action Senior Fellow. Follow him on Twitter at @DigantKapoor.
Saanya Gulati is an alumnus of Tufts University with a B.A. in International Relations and Sociology. She was previously a Legislative Assistant to a Member of Parliament (LAMP) Fellow at PRS Legislative Research. Follow her on Twitter @BombayDelhiGirl.