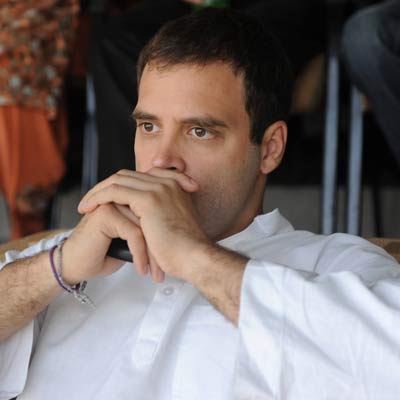 August 20 marks the 70th birth anniversary of former Prime Minister Rajiv Gandhi. Most of the younger generation today wouldn't remember him, but Rajiv was not a personal favourite, especially when he clamped down on all banks, government offices and railways etc. to foil a strike called by the opposition parties in 1988. He was the target of the media and opposition put together, and Ram Jethmalani asked him uncomfortable questions just like Subramanian Swami is going after Sonia and Rahul Gandhi today. Yet, Rajiv could never go on an offensive. He was too soft, too mild in his speeches. He was never a good orator and was always ridiculed for his catch phrases "hum dekhenge, humein dekhna hai..."
His son Rahul seems to have inherited this trait as well and is quite banal in his speeches, relying merely on standard catch phrases of eliminating poverty and empowering women.
When Rajiv went on an attack mode, it was both funny and disastrous. Upset with the opposition asking for his resignation in the wake of the Bofors scandal, he went all guns blazing. But the word he used to describe his opponents (which included the likes of VP Singh, Madhu Dandavate, George Fernandes et al) was 'limpets'. A difficult word for many, everyone went scurrying for an Oxford dictionary and newspaper editors had to explain the meaning to their readers the next day.
Then it was the famous nani yaad dila denge episode. A miffed Rajiv Gandhi simply said, "hum apne virodhiyon ko unki nani yaad dila denge." which created quite a hullabaloo.
Maybe, our politicians were indeed pretty sombre then. Compare that to what our leaders say to each other today.
Rajiv's first innings in politics was tempestuous, just like his son Rahul (although Rahul's innings looks like it's over, at least as of now). Rajiv rubbed several people the wrong way - most famously the then Andhra Pradesh Chief Minister T Anjaiah whom he publicly ticked off in 1982, which eventually led to the birth of the Telugu Desam Party and a new era of politics based on regional identities began.
It would be pertinent here to share an anecdote that is discussed often in the Maharashtra Congress circles. Vasantdada Patil, a veteran Congress leader, was the chief minister and went to see Rajiv Gandhi to finalise candidates for the elections. Patil, barely a literate, knew all the contenders personally and hence was carrying nothing on him - no files, no papers. He hoped to discuss them threadbare and was confident Rajiv would listen to him. As he entered the meeting room, he saw Rajiv and his aides immersed in the computer before them, which was a novelty in the early 80s. They were digging out information on the candidates, asking all kinds of questions to the befuddled Patil. As he walked out, Patil reportedly wondered to himself, is this how he is going to decide on candidates? God save the Congress, then.
And that is exactly what happened, as the Congress performed badly in 1989 (but not as bad as 2014). Rajiv had totally relied on his coterie and had got all the electoral math wrong.
His stint in the opposition, however, taught him a lot, and a more mature, seasoned politician in Rajiv was readying to take on the non-Congress coalition. He mended fences with many of the estranged fellow Congressmen, which included Sharad Pawar in Maharashtra, and was on a comeback trail. Unfortunately, this was cut short when he was assassinated in 1991 by LTTE assassins who didn't like his decision to help Sri Lankan forces.
It would be a great learning for Rahul, if he studied his own father's second innings that was more promising than the first.