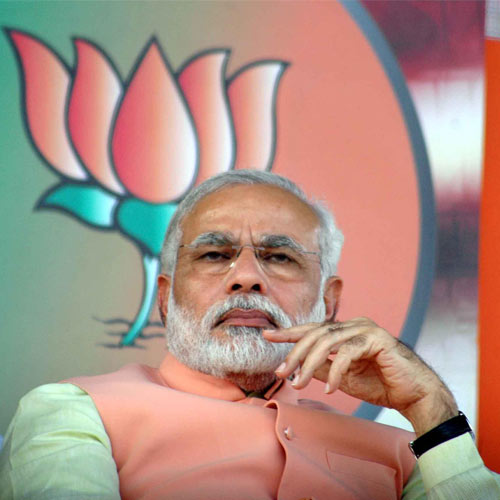 At a recent campaign rally in Jharkhand, Narendra Modi slammed every other party for the pathetic condition of the state, ignoring the fact that it had a BJP government till last year.
With the Lok Sabha elections getting nearer, Modi has become the subject of widespread discussion, both positive and negative, on electronic and social media forums. The BJP is running its entire campaign on brand Modi and his Gujarat 'development model', and his meteoric rise has been such that even those who know the truth behind the sham of 'Vibrant Gujarat' have been forced to turn mute spectators.
Mithilesh Kumar, a young man from Jharkhand's Palamu district and associated with BBC Action Media, recently visited Gujarat. He gives a first-hand account of the ground reality of development in Gujarat. He says, "Gujarat's development is limited to the corporate classes, and capitalist industrialisation is being dubiously projected as development."
According to Kumar, in sharp contrast to the BJP's narrative of a poor tea vendor rising to become the chief minister of the state, the condition of farmers and fishermen in Gujarat is pathetic, and no one is interested in hearing their plight. Even when their lands are seized they cannot protest, and the voice of the neutral media in the state has been silenced. "In such a place, it is not hard to imagine how the poor must suffer at the hands of those with power," adds Kumar, who also said labourers from Jharkhand, Bihar, Chhattisgarh and Odisha who are working in factories in Gujarat, claim that they and their family members are being forced to vote for the BJP.
Even before the state of Jharkhand came into existence, the people here were vocal about conservation of natural resources like water, forests, and land. Various mass movements have a strong base in the state, and a look at Jharkhand's political history shows all local political parties started off as people's movements. Today, they make themselves heard by voicing issues related to the tribal identities, cultures and languages of Jharkhand.
Farmers, landowners and the media in Jharkhand are also free in raising their voice, minorities are free to express their opinions, and people are empowered enough to be heard by their government in their choice of development measures. The changing political equations in the forthcoming elections, with the rise of Modi and his 'Gujarat Model', are disturbing for a state like Jharkhand.
Jharkhand has 21 lakh new voters eligible to vote in the upcoming Lok Sabha elections, including 10 lakh female voters. According to data released by the Election Commission, there are 2.1 crore registered voters in the 14 Lok Sabha constituencies of Jharkhand. The youth here has a fair understanding of political trends, and is active in discussing political issues in social and other media. Yet everyone is worried as to who they are going to vote into power. Their biggest fear is that their freedoms and rights may be curtailed. This fear is definitely going to inform their choice, and it is important for the future wellbeing of Jharkhand that they choose wisely.